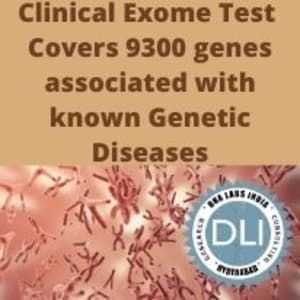 Clinical Exome Next Generation Sequencing Test
Disease: Genetics
Method: NGS DNA Sequencing
DNA Labs India is Ranked as No1 genetic DNA Test lab- 3500 Sample collection centers across India Call 07941057551 to talk with Doctor to get second opinion for free of cost - 100% All Conversation are private and confidential
20,000.00/- Rs
₹28,000.00
28% off
Why to get tested at DNA Labs India for Clinical Exome Next Generation Sequencing Test ?
Book Now
3500 Sample collection centers, Free Home Sample collection for Clinical Exome Next Generation Sequencing Test in your city

Ranked India No1 DNA Test Lab for Clinical Exome Next Generation Sequencing Test

Most Trusted Lab by doctors for Clinical Exome Next Generation Sequencing Test. Call 07941057551 to talk with Doctor to get second opinion for free of cost
Clinical Exome Next Generation Sequencing Test Cost 20000 Rs
---
| | |
| --- | --- |
| Test type | Genetician |
| Pre-test Information | Covers 9300 genes associated with known clinical phenotypes Comprehensive coverage for disease subtypes Aids in differential diagnosis Addresses complex phenotypes |
| Report Delivery | 4 weeks |
| Components | Covers 9300 genes associated with known clinical phenotypes |
| Price | ₹ 20000 |
| Method | NGS DNA Sequencing |
Clinical Exome Next Generation Sequencing Test Details
---
Short Description
DISORDERS COVERED IN THE CLINICAL EXOME TEST: Nutritional and Metabolic Diseases Congenital, Hereditary, and Neonatal Diseases Stomatognathic Diseases Otorhinolaryngologic Diseases Eye Diseases Skin and Connective Tissue Diseases Cardiovascular Diseases Hemic and Lymphatic Diseases Musculoskeletal Diseases Digestive System Diseases Endocrine System Diseases Respiratory Tract Diseases Nervous System Diseases Immune System Diseases Female Urogenital Diseases and Pregnancy Complications Male Urogenital Diseases and Abnormalities Neoplasms
Test Specifications
Components: Covers 9300 genes associated with known clinical phenotypes

Department: MOLECULAR DIAGNOSTICS

Shipping Stability: Room 3 days
PreTest Information
Covers 9300 genes associated with known clinical phenotypes Comprehensive coverage for disease subtypes Aids in differential diagnosis Addresses complex phenotypes
Detail Description
Clinical Exome Next Generation Sequencing Test
Clinical exome sequencing (CES) is rapidly becoming a common molecular diagnostic test for individuals with rare diseases by Next Generation Sequencing. In Clinical exome, DNA Labs India covers 9300 different genes related to multiple genetic diseases.
Description:- Test is based on Next Generation Sequencing and uses Massive Parallel sequencing to identify mutations and Gene Variants in a very short time. Sequencing provides 100X resolution of Clinical Exome Data coverage, based on the Clinical Variant Database of Indian Population.
What is an exome?
Our body is made up of cells that contain our chromosomes. Chromosomes are made of DNA, which carries the genetic information in units called genes that are passed down from one generation to the next. Genes provide instructions that are used to develop and maintain each part of the body, allowing each organ to do its job correctly.
Approximately 1-2% of our DNA provides instructions for proteins, and that 1-2% is called the exome. When mistakes in our DNA occur in the exome, it can lead to disease. Clinical Exome is a DNA Labs India test to read and check the spelling, or "sequence," of the exome by a method called sequencing. Clinical exome sequencing is currently one of the most comprehensive genetic tests available.
With current technology, we can analyze approximately 96% of the exome, which includes approximately 99% coverage for over 9,300 genes that have previously been associated with the disease. Clinical Exome is performed on a patient's sample that is sent to our laboratory. Once we receive the sample, the lab isolates the DNA and compares the sequence of the affected individual's exome with the sequence of the exome from healthy people. This comparison looks for misspellings, or variants, that could leave a gene unable to do its job correctly and could be the cause of the individual's disease.
What is clinical exome sequencing?
Clinical exome sequencing uses a technology called Next Generation Sequencing (NGS). It is different from traditional genetic testing because it allows a large number of genes (sections of DNA) to be tested at the same time. Sequencing means we can look for gene changes (variants) that may cause genetic conditions. A clinical exome can be very useful if you have a medical condition that may be caused by one or more gene changes and when it's not clear exactly which gene the change is in. It is most useful when your doctor has some idea of which gene or genes may have a chance.
What is a genome & an exome?
To understand what exomes and genomes are, it is important to understand what genes are first. A gene is a short section of DNA. DNA is made up of four chemical bases represented by the letters A, C, T & these bases form a unique sequence and changes (also known as 'variants') to this sequence can cause disease.
Certain parts of a gene, called exons, are the instructions for proteins. Proteins are vital to the structure and function of our bodies and our physical characteristics. The 'exome' is the sequence of all these exons.
While the exome refers to all the protein-coding genes, a genome refers to all genes (those that code for protein and those that don't). The exome makes up approximately 1-2% of the genome. Genetic changes or variants in our exome can cause disease. Exome sequencing is a way to look for genetic changes in genes that may cause disease.
How does exome sequencing work?
Clinical exomes read the sequence of your exome to identify any variants that may be the cause of your health condition. It is important to note that in most cases the clinical exome will only look at genes that relate to an individual's condition. This is known as a targeted analysis.
Who should undergo Clinical Exome sequencing?
Clinical Exome is useful for patients:
With a genetically heterogeneous disease as pathogenic findings could be present in many different genes
With a long list of differential diagnoses
With an atypical presentation of a genetic disorder
Who have exhausted other currently available genetic testing options?
How is the clinical exome interpreted?
The most complex part of the clinical exome is the interpretation of results. This is because not all genetic changes (variants) cause genetic conditions. Some variants are a normal part of what makes everyone different. Variants may be inherited from ancestors or maybe new in an individual (not inherited). Some are known to cause genetic conditions, and for some, we don't understand their significance.
Understanding variants: To find the variants in an individual's exome sequence, special computer programs are used to filter out parts of the sequence that are common to many people in the healthy population. A clinical exome test usually identifies hundreds together to understand the significance of each variant found and how this
How are clinical exome results reported?
Results from a clinical exome are reported based on the type of variant found. Each will have different implications, both for the individual being tested and their family. Your doctor will discuss these implications with you.
| | |
| --- | --- |
| Variant type | What this means |
| Pathogenic | This variant is the likely cause of your condition. |
| The variant of uncertain significance (VUS) | It is not known whether this variation is the cause of your condition. |
| No variant found | No disease-causing variants were found. |
| Additional findings | A pathogenic variant outside the analysis requested was found. |
How is testing arranged?
Clinical exome sequencing through DNA Labs India is a highly specialized and expensive test. Testing is coordinated through our clinical genetics service. A request for testing is only accepted from specialist doctors after discussion with one of our clinical geneticists or genetic counsellors.
What type of samples are needed to do a Clinical Exome Test?
Blood for testing can be obtained from several bodily sources. The cells that are the most commonly tested are derived. Standard Biological Test Samples: Blood
How many days does it take to obtain Next-Generation Sequencing Clinical Exome Test results?
Results of the NGS Clinical Exome test are usually available from the laboratory within 4 weeks. DNA Labs India understands that waiting for Clinical Exome Test results for this potentially life-changing test is stressful, so we provide speedy service without sacrificing accuracy. Once complete, the results are posted immediately to our secure online portal, and you will be notified by email right away.
How much does an NGS Clinical Exome Test cost?
A standard NGS Clinical Exome Test cost you 16000/- INR. Alternatively, we provide another Test called Whole Exome Sequencing
Why Choose DNA Labs India for NGS Clinical Exome Test?
DNA labs India's Clinical Exome Test follows with dual testing for 100% accuracy when determining a Next-Generation Sequencing Clinical Exome Test.
We are the leading lab for the Clinical Exome Test in India
Only Lab to Share RAW Data, FASTQ and VCF files post-test results
Greater Accuracy with 20X depth and 100X region coverage
Sample Collection centres across India
Outstanding customer service
Strict privacy and confidentiality assured
Full-service laboratories providing testing for use in complex cases
How to Schedule an Appointment for Clinical Exome Test?
You can either book online at the link provided. If you book and make the payment online free home collection service is provided to patients of all Next Generation Sequencing Clinical Exome Tests.
How can I locate an NGS Clinical Exome Test facility?
DNA labs India has 3000 plus sample collection centres across India for Clinical Exome Test. You can choose the centre and book the Next Generation Sequencing Clinical Exome Test online. For all online bookings made and payment paid a free home sample collection service is provided.
List of genes Covered in NGS Clinical Exome Test:
| | | | | | | |
| --- | --- | --- | --- | --- | --- | --- |
| ABCE1 | TFR2 | DOCK3 | MICA | TYRP1 | POLR2A | ATP1B1 |
| ABCG2 | THSD7A | DRD3 | MICAL1 | U4ATAC-CHR9 | PPM1D | ATP2B4 |
| ADAMTS3 | TMEM139 | DVL3 | MIR206 | UBAP2 | PPM1E | ATP5F1 |
| ADD1 | TNPO3 | ECE2 | MOCS1 | UBE2R2 | PPY | ATPAF1 |
| ADGRA3 | TNRC18 | EDEM1 | MPC1 | UBQLN1 | PRCD | ATPIF1 |
| ADH1A | TNS3 | EHHADH | MRAP2 | UGCG | PRKAR1A | AVPR1B |
| ADH1B | TPK1 | EIF2B5 | MRPL14 | UNC13B | PRKCA | B3GALT2 |
| ADH1C | TRA2A | EIF4G1 | MRPL18 | VLDLR | PRPF8 | B3GALT6 |
| ADH4 | TRB | EOGT | MRPL2 | VPS13A | PSMC3IP | B4GALT2 |
| ADH5 | TRBV9 | EOMES | MRPS10 | WDR31 | PTRF | B4GALT3 |
| ADH6 | TRGC1 | EPHA3 | MRPS18A | WDR34 | PTRH2 | BCAN |
| ADH7 | TRGC2 | EPHB1 | MRPS18B | WDR5 | PYCR1 | BCL10 |
| ADRA2C | TRGV1 | ETV5 | MSH5 | XPA | PYY | BCL9 |
| AFF1 | TRIL | FANCD2 | MSH5-SAPCD1 | ZNF79 | RAB34 | BGLAP |
| AFP | TRIM24 | FANCD2OS | MUT | ABHD12 | RAD51C | BRINP2 |
| AGA | TRPV5 | FBLN2 | MYCT1 | ACSS2 | RAD51D | BSND |
| AIMP1 | TRRAP | FBXO45 | MYLIP | ADA | RAD51L3-RFFL | BTG2 |
| ALB | TSPAN12 | FEZF2 | MYO6 | ADAM33 | RAI1 | C1ORF100 |
| AMBN | TWIST1 | FGF12 | NCR3 | ADNP | RANGRF | C1ORF106 |
| ANK2 | TYW1 | FHIT | NDUFAF4 | ADRA1D | RARA | C1ORF127 |
| ANKRD50 | UBE3C | FLNB | NEDD9 | AHCY | RARA-AS1 | C1ORF168 |
| ANXA5 | UBN2 | FOXL2 | NELFE | ARFGEF2 | RBFOX3 | C1ORF172 |
| APBB2 | URGCP-MRPS24 | FOXP1 | NEU1 | ASIP | RCVRN | C1QA |
| ARHGAP24 | VIPR2 | FSTL1 | NFKBIL1 | ASXL1 | RECQL5 | C1QB |
| ATP10D | VSTM2A | FYCO1 | NHLRC1 | ATP5E | RGS9 | C1QC |
| ATP5I | WBSCR17 | GAP43 | NKAIN2 | AURKA | RHBDF2 | C4BPA |
| BANK1 | WBSCR22 | GATA2 | NOTCH4 | AVP | RILP | C8A |
| BBS12 | WDR60 | GBE1 | NOX3 | B4GALT5 | RNF213 | C8B |
| BBS7 | WIPI2 | GFM1 | NQO2 | BCL2L1 | RNF43 | CA6 |
| BMP2K | XRCC2 | GHRL | NR2E1 | BFSP1 | RPA1 | CACHD1 |
| BMPR1B | YAE1D1 | GHSR | NT5DC1 | BMP2 | RPH3AL | CACNA1E |
| BST1 | ZAN | GLB1 | NT5E | BMP7 | RPL19 | CACNA1S |
| BTC | ZC3HAV1 | GLYCTK | NUS1 | BPI | RPL23 | CAMSAP2 |
| C4ORF26 | ZKSCAN5 | GMPPB | OARD1 | BPIFA1 | RPL26 | CAMTA1 |
| C4ORF29 | ZNHIT1 | GMPS | OPRM1 | BPIFA3 | RPL27 | CAPN9 |
| CAMK2D | ZPBP | GNAI2 | OR10C1 | C20ORF197 | RPL38 | CASP9 |
| CASP3 | ABCA12 | GNAT1 | OR2J3 | CD40 | RPS6KB1 | CASQ1 |
| CBR4 | ABCB11 | GNB4 | ORC3 | CDH22 | RPTOR | CASQ2 |
| CC2D2A | ABCB6 | GORASP1 | OSTM1 | CDH4 | RTN4RL1 | CATSPER4 |
| CCDC109B | ABCG5 | GP5 | PAQR8 | CEP250 | RUNDC1 | CCDC18 |
| CCKAR | ABCG8 | GP9 | PCMT1 | CHD6 | RUNDC3A | CCDC19 |
| CCNA2 | ACADL | GPD1L | PDE10A | CHGB | SARM1 | CCDC28B |
| CD38 | ACMSD | GPR149 | PDE7B | CHMP4B | SCN4A | CD1A |
| CDKN2AIP | ACP1 | GPX1 | PDSS2 | CHRNA4 | SCO1 | CD1E |
| CDS1 | ACTG2 | GSK3B | PEX3 | COL9A3 | 9-Sep | CD244 |
| CENPE | ACVR1 | GTF2E1 | PEX6 | COX4I2 | SERPINF1 | CD46 |
| CEP135 | ACVR1C | GYG1 | PGBD1 | CPNE1 | SERPINF2 | CD58 |
| CFI | ACVR2A | HACL1 | PGC | CRLS1 | SEZ6 | CDA |
| CHIC2 | ADAM17 | HCLS1 | PGM3 | CSNK2A1 | SGCA | CDC14A |
| CHRNA9 | ADAM23 | HESX1 | PHACTR1 | CSRP2BP | SGSH | CDC42 |
| CISD2 | ADCY3 | HGD | PHF10 | CST3 | SGSM2 | CDC73 |
| CLOCK | ADD2 | HPS3 | PHF3 | CST9 | SHBG | CDK18 |
| COL25A1 | ADRA2B | HRG | PHIP | CTSA | SHMT1 | CDKN2C |
| CORIN | AFF3 | HTR3C | PIM1 | CTSZ | SHPK | CELSR2 |
| COX18 | AGAP1 | HTR3E | PKHD1 | CYP24A1 | SLC13A2 | CENPF |
| COX7B2 | AGBL5 | HYAL1 | PLA2G7 | DDRGK1 | SLC13A5 | CEP104 |
| CPE | AGPS | HYAL2 | PLAGL1 | DEFB124 | SLC16A3 | CEP170 |
| CPLX1 | AGXT | IFT122 | PLG | DEFB126 | SLC25A10 | CFH |
| CPZ | ALK | IFT80 | PLN | DNAJC5 | SLC25A11 | CFHR4 |
| CTBP1 | ALLC | IGF2BP2 | PNPLA1 | DNMT3B | SLC25A19 | CFHR5 |
| CXCL10 | ALS2 | IGSF10 | POLH | DOK5 | SLC25A35 | CHD1L |
| CXCL11 | ANO7 | IL12A | POLR1C | DTD1 | SLC25A39 | CHD5 |
| CXCL5 | ANTXR1 | IL17RB | POU5F1 | DUSP15 | SLC26A11 | CHI3L1 |
| CXCL8 | AOX1 | IL17RC | PPARD | E2F1 | SLC2A4 | CHI3L2 |
| CYP2U1 | APOB | IL17RD | PPP2R5D | EDN3 | SLC46A1 | CHIA |
| CYP4V2 | ARHGEF4 | IL20RB | PPT2 | EEF1A2 | SLC47A2 | CHIT1 |
| DCHS2 | ARID5A | ILDR1 | PRDM1 | EIF2S2 | SLC4A1 | CHML |
| DCK | ARL6IP6 | IMPDH2 | PRDM13 | ELMO2 | SLC52A1 | CHRM3 |
| DCLK2 | ASAP2 | IMPG2 | PRL | EPB41L1 | SLC6A4 | CHRNB2 |
| DKK2 | ASB1 | IQCB1 | PRPH2 | FAM83C | SLC9A3R1 | CKS1B-CHR1 |
| DMP1 | ASIC4 | IQCG | PRRC2A | FERMT1 | SLFN14 | CLCA1 |
| DOK7 | ASPRV1 | ITGA9 | PRSS16 | FKBP1A | SLFN5 | CLCA2 |
| DRD5 | ASTL | ITIH1 | PSMB8 | FLRT3 | SMARCD2 | CLCC1 |
| DSPP | ASXL2 | ITIH3 | PSMB9 | FOXA2 | SMARCE1 | CLCN6 |
| DTHD1 | ATG16L1 | ITIH4 | PSORS1C1 | GATA5 | SMG6 | CLCNKA |
| EDNRA | ATIC | ITPR1 | PTK7 | GDF5 | SNORD118 | CLCNKB |
| EGF | ATP5G3 | JAGN1 | PTPRK | GHRH | SOCS3 | CLDN19 |
| ELMOD2 | ATP6V1B1 | KALRN | QKI | GNAS | SOST | CLK2 |
| ENAM | AUP1 | KCNAB1 | QRSL1 | GNAS-AS1 | SOX15 | CLSPN |
| EPHA5 | B3GALT1 | KCNMB3 | RAB23 | GSS | SOX9 | CLSTN1 |
| ETFDH | B3GNT2 | KCTD6 | RAET1L | HAO1 | SPAG5 | CMPK1 |
| ETNPPL | B3GNT7 | KIAA2018 | RARS2 | HCK | SPAG9 | CNKSR1 |
| EVC2 | BARD1 | KLHDC8B | REV3L | HNF4A | SPATA22 | CNR2 |
| F11 | BBS5 | KLHL24 | RFX6 | HRH3 | SPATA32 | CNTN2 |
| FABP2 | BCL11A | KLHL40 | RGL2 | IDH3B | SPECC1 | COA6 |
| FAT1 | BCL2L11 | KLHL6 | RHAG | IFT52 | SPOP | COG2 |
| FAT4 | BCS1L | KNG1 | RIMS1 | ITPA | SRCIN1 | COL11A1 |
| FBXW7 | BIN1 | KPNA1 | RIPPLY2 | JAG1 | SREBF1 | COL8A2 |
| FGA | BIRC6 | KY | RMND1 | JPH2 | SRR | COL9A2 |
| FGB | BMP10 | LAMB2 | RNASET2 | KCNB1 | SRSF2 | COPA |
| FGF2 | BMPR2 | LARS2 | ROS1 | KCNQ2 | SSH2 | COX20 |
| FGF5 | BOLA3 | LIMD1 | RPS10 | KCNS1 | SSTR2 | CPT2 |
| FGFBP1 | BUB1 | LINC00852 | RPS10-NUDT3 | KIAA1755 | ST6GALNAC1 | CR1L |
| FGFR3 | C2ORF42 | LIPH | RPS12 | KIZ | ST6GALNAC2 | CR2 |
| FGFRL1 | C2ORF71 | LMOD3 | RPS6KA2 | L3MBTL1 | STAC2 | CRB1 |
| FGG | CACNB4 | LPP | RREB1 | LBP | STARD3 | CRP |
| FIP1L1 | CAD | LRIG1 | RSPH3 | LPIN3 | STAT3 | CSDE1 |
| FRAS1 | CAPN10 | LRRC2 | RSPH4A | MACROD2 | STAT5A | CSF1 |
| FREM3 | CAPN13 | LRRFIP2 | RSPH9 | MAFB | STAT5B | CSF3R |
| FRG1 | CASP10 | LSM3 | RTN4IP1 | MATN4 | STH | CSMD2 |
| GAB1 | CASP8 | LTF | RUNX2 | MAVS | STRADA | CTBS |
| GABRA2 | CCDC115 | LXN | SASH1 | MC3R | STXBP4 | CTH |
| GABRA4 | CCDC141 | LZTFL1 | SCGN | MCM8 | SUPT6H | CTPS1 |
| GABRB1 | CCDC88A | MAATS1 | SEC63 | MGME1 | SUZ12 | CTRC |
| GABRG1 | CCNT2 | MANF | SERAC1 | MKKS | TACO1 | CTSK |
| GAK | CCT7 | MAP3K13 | SERPINB6 | MMP9 | TAF15 | CYP2J2 |
| GALNT7 | CD207 | MAP4 | SGK1 | MROH8 | TANC2 | CYP4A11 |
| GALNTL6 | CD8A | MAPKAPK3 | SHPRH | MRPS26 | TBCD | CYP4A22 |
| GAR1 | CDCA7 | MASP1 | SIM1 | MTG2 | TBX2 | CYP4B1 |
| GBA3 | CEBPZ | MBD4 | SIRT5 | MYBL2 | TBX21 | CYR61 |
| GC | CENPO | MCCC1 | SKIV2L | MYH7B | TBX4 | DARS2 |
| GK2 | CEP68 | MCM2 | SLC17A1 | MYLK2 | TCAP | DBT |
| GLRB | CERKL | MECOM | SLC17A3 | MYT1 | TEX14 | DCAF6 |
| GNRHR | CERS6 | MED12L | SLC17A5 | NANP | THRA | DCAF8 |
| GPRIN3 | CGREF1 | MGLL | SLC22A1 | NCOA3 | TIMP2 | DCST1 |
| GRID2 | CHN1 | MIR191 | SLC22A16 | NCOA6 | TK1 | DDAH1 |
| GRK4 | CHPF | MITF | SLC22A2 | NDUFAF5 | TLK2 | DDI2 |
| GRPEL1 | CHRNA1 | MLF1 | SLC22A23 | NEURL2 | TMC6 | DDOST |
| GRXCR1 | CHRND | MLH1 | SLC22A3 | NFATC2 | TMC8 | DDR2 |
| GUCY1A3 | CHRNG | MME | SLC22A7 | NKX2-2 | TMEM107 | DDX20 |
| GUF1 | CHST10 | MRPL3 | SLC25A27 | NOP56 | TMEM132E | DDX59 |
| GYPA | CIAO1 | MRPL47 | SLC26A8 | OPRL1 | TMEM199 | DENND2C |
| GYPB | CKAP2L | MRPS22 | SLC29A1 | OSBPL2 | TMEM92 | DHCR24 |
| GYPE | CLASP1 | MRPS25 | SLC35A1 | OSER1 | TMEM98 | DHDDS |
| HADH | CLHC1 | MST1 | SLC35B2 | OTOR | TMEM99 | DHRS3 |
| HAND2 | CMPK2 | MST1R | SLC35D3 | OVOL2 | TNFAIP1 | DHX9 |
| HELQ | CNGA3 | MTMR14 | SMOC2 | PAK7 | TNFRSF13B | DIO1 |
| HHIP | CNNM3 | MUC13 | SNHG5 | PANK2 | TNFSF12 | DIRAS3 |
| HMX1 | CNNM4 | MYD88 | SNX14 | PAX1 | TNFSF12-TNFSF13 | DISP1 |
| HNRNPD | CNTNAP5 | MYH15 | SNX3 | PCK1 | TNRC6C | DLGAP3 |
| HNRNPDL | COA5 | MYL3 | SOBP | PCNA | TOP2A | DMBX1 |
| HPGD | COL3A1 | MYLK | SOD2 | PCSK2 | TP53 | DMRTA2 |
| HSD17B11 | COL4A3 | NAALADL2 | SOGA3 | PDYN | TP53I13 | DNAH14 |
| HTN3 | COL4A4 | NAT6 | STK19 | PHF20 | TRIM37 | DNAJC6 |
| HTT | COL5A2 | NBEAL2 | STX11 | PI3 | TRPV1 | DOCK7 |
| IBSP | COL6A3 | NCKIPSD | STX7 | PIGT | TRPV3 | DPM3 |
| IDUA | COLEC11 | NDUFAF3 | STXBP5 | PLCB1 | TSEN54 | DPYD |
| IGFBP7 | COMMD1 | NDUFB4 | SUMO4 | PLCB4 | TSR1 | DRAM2 |
| IL2 | COX5B | NDUFB5 | SYNCRIP | PLCG1 | TTC19 | DSTYK |
| IL21 | COX7A2L | NEK11 | SYNE1 | PLTP | TTC25 | DUSP23 |
| INTU | CPO | NFKBIZ | SYNGAP1 | POFUT1 | TUBG1 | DVL1 |
| IRF2 | CPS1 | NGLY1 | SYTL3 | PRND | UBB | ECE1 |
| KCNIP4 | CPSF3 | NICN1 | T | PRNP | ULK2 | ECM1 |
| KDR | CREB1 | NISCH | TAAR1 | PROCR | UNC119 | EDARADD |
| KIAA0232 | CRIM1 | NLGN1 | TAAR2 | PROKR2 | UNC13D | EDN2 |
| KIAA1109 | CRIPT | NPHP3 | TAAR6 | PRPF6 | UNC45B | EFCAB7 |
| KIT | CRYBA2 | NPHP3-ACAD11 | TAAR9 | PSMA7 | USH1G | EFNA3 |
| KLB | CRYGA | NPRL2 | TAB2 | PTGIS | USP6 | EFNA4 |
| KLKB1 | CRYGB | NR1D2 | TAP1 | PTPN1 | UTP6 | EGLN1 |
| LARP7 | CRYGC | NR1I2 | TAP2 | PTPRA | UTS2R | EIF2B3 |
| LETM1 | CRYGD | NRROS | TAPSAR1 | PTPRT | VPS53 | EIF2D |
| LIAS | CRYGEP | NSUN3 | TBC1D32 | RAD21L1 | VTN | EIF4G3 |
| LRAT | CTLA4 | NUP210 | TBC1D7 | RBCK1 | WBP2 | ELAVL4 |
| LRBA | CTNNA2 | NXPE3 | TBP | RBL1 | WDR45B | ELK4 |
| LRIT3 | CUL3 | OGG1 | TBX18 | RBM12 | WDR81 | EMC1 |
| LRPAP1 | CXCR1 | OPA1 | TCF21 | RIN2 | WNK4 | ENO1 |
| MAB21L2 | CXCR2 | OR5AC2 | TCP1 | RNF114 | WNT3 | EPB41 |
| MAD2L1 | CXCR4 | OR5H6 | TCTE1 | RPN2 | WRAP53 | EPHA2 |
| MAEA | CYBRD1 | OXSR1 | TCTE3 | RSPO4 | XAF1 | EPHX1 |
| MANBA | CYP1B1 | OXTR | TDP2 | RTEL1 | XYLT2 | EPS15 |
| MAPK10 | CYP26B1 | P2RY12 | TDRD6 | RTEL1-TNFRSF6B | YBX2 | EPS8L3 |
| MED28 | CYP27A1 | P3H2 | TFAP2A | SALL4 | YWHAE | ERMAP |
| MEPE | D2HGDH | PAQR9 | TFAP2B | SAMHD1 | ZACN | ERRFI1 |
| METTL14 | DARS | PARL | TFAP2D | SEC23B | ZMYND15 | ESPN |
| MFSD8 | DBI | PBRM1 | TFB1M | SEMG1 | ZNF750 | ESRRG |
| MGST2 | DCAF17 | PCCB | THBS2 | SIGLEC1 | ZPBP2 | EVI5 |
| MMAA | DCTN1 | PCOLCE2 | TIAM2 | SLA2 | ZSWIM7 | EXO1 |
| MRPL1 | DES | PCYT1A | TINAG | SLC13A3 | ALG5 | EXO5 |
| MRPS18C | DFNB59 | PDCD10 | TNF | SLC17A9 | ALOX5AP | EXOC8 |
| MSMO1 | DGKD | PDCD6IP | TNFAIP3 | SLC2A10 | ARHGEF7 | EXTL1 |
| MSX1 | DGUOK | PDHB | TNFRSF21 | SLC4A11 | ARL11 | EXTL2 |
| MTNR1A | DHRS9 | PHF7 | TPBG | SLC52A3 | ATP7B | F13B |
| MTTP | DIS3L2 | PIGZ | TPMT | SLMO2 | ATP8A2 | F3 |
| MUC7 | DLX2 | PIK3CA | TRAF3IP2 | SLMO2-ATP5E | ATXN8OS | F5 |
| MYOZ2 | DNAH6 | PIK3CB | TRDN | SNAP25 | BIVM | FAAH |
| N4BP2 | DNAH7 | PIK3R4 | TREM2 | SNORD56-CHR20 | BIVM-ERCC5 | FABP3 |
| NAF1 | DNAJB2 | PLCD1 | TREML2 | SNORD57 | BRCA2 | FAM212B |
| NAT8L | DNMT3A | PLOD2 | TREML4 | SNRPB | CARS2 | FAM213B |
| NDST3 | DOK1 | PLXNA1 | TRERF1 | SNTA1 | CDX2 | FAM46C |
| NDST4 | DPP10 | PLXNB1 | TSPYL1 | SNX5 | CENPJ | FAM71A |
| NDUFC1 | DPP4 | PLXND1 | TTK | SOX18 | CHAMP1 | FASLG |
| NEK1 | DRC1 | POC1A | TUBB | SPTLC3 | CLN5 | FBLIM1 |
| NELFA | DTNB | POGLUT1 | TUBB2A | SRC | COG3 | FBXO2 |
| NFKB1 | DYNC2LI1 | POLQ | TUBB2B | SS18L1 | COG6 | FCER1A |
| NFXL1 | DYSF | POMGNT2 | TULP1 | STK35 | COL4A1 | FCGR2A |
| NIPAL1 | ECEL1 | POU1F1 | TXLNB | STK4 | COL4A2 | FCGR3A |
| NKX3-2 | EDAR | PPARG | UBD | STX16 | CPB2 | FCGR3B |
| NKX6-1 | EEF1B2 | PRICKLE2 | UFL1 | STX16-NPEPL1 | CRYL1 | FCN3 |
| NMU | EFEMP1 | PRKCD | UHRF1BP1 | SULF2 | CSNK1A1L | FCRL3 |
| NOA1 | EHBP1 | PROK2 | UNC5CL | SUN5 | CUL4A | FCRL4 |
| NPFFR2 | EIF2AK3 | PROS1 | UNC93A | SYCP2 | CYSLTR2 | FCRL6 |
| NPNT | EIF2B4 | PSMD2 | UQCC2 | TBC1D20 | DACH1 | FDPS |
| NPY1R | ELMOD3 | PTH1R | UST | TGM2 | DAOA | FH |
| NPY2R | EMILIN1 | PTPN23 | UTRN | TGM3 | DCLK1 | FLAD1 |
| NR3C2 | EMX1 | PTPRG | VARS | TGM6 | DGKH | FLG2 |
| NSUN7 | EN1 | PVRL3 | VARS2 | THBD | DIAPH3 | FLVCR1 |
| NUDT6 | EPAS1 | QARS | VEGFA | TLDC2 | DNAJC3 | FMN2 |
| OTUD4 | EPC2 | QRICH1 | VIP | TMEM230 | EDNRB | FMO1 |
| PABPC4L | EPCAM | QTRTD1 | VNN1 | TNFRSF6B | EFNB2 | FMO2 |
| PALLD | EPHA4 | RAB7A | WISP3 | TOP1 | ENOX1 | FMO4 |
| PARM1 | EPT1 | RAD18 | XPO5 | TP53RK | ERCC5 | FMO5 |
| PCDH10 | ERBB4 | RAD54L2 | YIPF3 | TRIB3 | EXOSC8 | FMO6P |
| PCDH18 | ERCC3 | RAF1 | ZBTB12 | TSHZ2 | F10 | FMOD |
| PCDH7 | EXOC6B | RARB | ZBTB24 | TTI1 | F7 | FOXD3 |
| PDE5A | FABP1 | RASA2 | ZFP57 | TUBB1 | FGF14 | FOXE3 |
| PDE6B | FAM136A | RASSF1 | ZNF311 | U4ATAC-CHR20 | FGF9 | FPGT-TNNI3K |
| PDGFC | FAM161A | RASSF1-AS1 | ADAM7 | VAPB | FLT1 | FUBP1 |
| PDGFRA | FAM228B | RFC4 | ADAM9 | VPS16 | FLT3 | FUCA1 |
| PDLIM3 | FANCL | RFT1 | ADCY8 | VSX1 | FOXO1 | GADD45A |
| PDLIM5 | FASTKD2 | RHO | ADHFE1 | XRN2 | FREM2 | GALE |
| PHOX2B | FBXO11 | RNF168 | ADRB3 | YWHAB | FRY | GALNT2 |
| PIGG | FEV | ROBO1 | AGO2 | ZHX3 | GAS6 | GATAD2B |
| PIGY | FHL2 | ROBO2 | ANGPT1 | ZNF133 | GGACT | GBA |
| PITX2 | FIGLA | RPL24 | ANGPT2 | ZNF217 | GJA3 | GBP2 |
| PKD2 | FN1 | RPL35A | ANK1 | ZNF335 | GJB2 | GBP4 |
| PLK4 | FOXN2 | RPSA | ARC | ZNF512B | GJB6 | GCLM |
| POLR2B | FRZB | RPUSD3 | ARFGEF1 | ABCD4 | GPC5 | GFI1 |
| PPA2 | FSHR | RSRC1 | ARHGEF10 | ACTN1 | GPC6 | GJA4 |
| PPARGC1A | FZD5 | RUBCN | ASAH1 | ADSSL1 | GPR12 | GJA5 |
| PPAT | G6PC2 | RUVBL1 | ASAP1 | AK7 | GPR180 | GJA8 |
| PPEF2 | GAD1 | RYK | ASH2L | AKT1 | GRK1 | GJA9 |
| PPM1K | GAL3ST2 | SCAP | ASPH | ALDH6A1 | HSPH1 | GJB3 |
| PPP2R2C | GALNT13 | SCN10A | ATP6V0D2 | AMN | HTR2A | GJB4 |
| PPP3CA | GALNT14 | SCN11A | ATP6V1B2 | ANG | IFT88 | GJC2 |
| PRDM5 | GALNT3 | SCN5A | ATP6V1H | AP4S1 | ING1 | GLMN |
| PRDM8 | GALNT5 | SEC61A1 | BAALC | APEX1 | INTS6 | GLUL |
| PRIMPOL | GCKR | SEMA3F | BLK | APOPT1 | ITM2B | GNAI3 |
| PRKG2 | GEN1 | SERPINI1 | BMP1 | AREL1 | KL | GNAT2 |
| PRMT9 | GFPT1 | SERPINI2 | C8ORF37 | ARID4A | KLF12 | GNB1 |
| PROM1 | GGCX | SETD5 | CA1 | ATL1 | KLF5 | GNPAT |
| PRSS12 | GIGYF2 | SGOL1 | CA2 | ATP5S | KLHL1 | GON4L |
| PSAPL1 | GLI2 | SHOX2 | CA8 | ATXN3 | LACC1 | GORAB |
| PTPN13 | GLS | SI | CCAR2 | BAZ1A | LAMP1 | GPR161 |
| QDPR | GMPPA | SKIL | CHD7 | BCL11B | LHFP | GPR88 |
| RAB28 | GPBAR1 | SLC15A2 | CHRNA2 | BCL2L2 | LIG4 | GPSM2 |
| RAB33B | GPC1 | SLC22A13 | CLDN23 | BCL2L2-PABPN1 | LNX2 | GREM2 |
| RAP1GDS1 | GPD2 | SLC22A14 | CLN8 | BDKRB2 | LPAR6 | GRHL3 |
| RASGEF1B | GPR1 | SLC25A20 | CLU | BMP4 | LRCH1 | GRIK3 |
| RBPJ | GPR35 | SLC25A26 | CNGB3 | BRF1 | MCF2L | GSTM2 |
| RCHY1 | GPR55 | SLC25A38 | COL14A1 | C14ORF142 | MIR17HG | GSTM3 |
| REST | GPR75 | SLC26A6 | COX6C | C14ORF2 | MRPS31 | GSTM4 |
| RFC1 | GRB14 | SLC2A2 | CPA6 | C14ORF28 | MYCBP2 | GSTM5 |
| RGS12 | GRHL1 | SLC33A1 | CRH | CALM1 | MYO16 | GUCA2B |
| RHOH | GTF2A1L | SLC35G2 | CSGALNACT1 | CCDC176 | N4BP2L2 | H3F3A |
| RNF212 | GTF3C2 | SLC4A7 | CSMD1 | CCDC85C | NALCN | H6PD |
| RRH | GYPC | SLC6A1 | CSMD3 | CCDC88C | NBEA | HAX1 |
| SCARB2 | HADHA | SLC6A11 | CSPP1 | CDC42BPB | NUDT15 | HCN3 |
| SEC24B | HADHB | SLC6A20 | CTHRC1 | CDKN3 | PARP4 | HCRTR1 |
| SEC24D | HDAC4 | SLC6A6 | CTSB | CEBPE | PCCA | HDAC1 |
| SEC31A | HDLBP | SLC7A14 | CYC1 | CEP170B | PCDH9 | HFE2 |
| SEPSECS | HECW2 | SLC9A9 | CYP11B1 | CFL2 | PCID2 | HFM1 |
| SGCB | HES6 | SLCO2A1 | CYP11B2 | CHD8 | PDX1 | HHAT |
| SHROOM3 | HIBCH | SLMAP | CYP7A1 | CHGA | PHF11 | HIST3H3 |
| SLBP | HK2 | SMARCC1 | CYP7B1 | CINP | PIBF1 | HIVEP3 |
| SLC25A31 | HNMT | SNRK | DCAF13 | CMA1 | POLR1D | HMCN1 |
| SLC25A4 | HOXD10 | SOX2 | DCSTAMP | COCH | POMP | HMGCL |
| SLC26A1 | HOXD11 | SPATA16 | DDHD2 | COQ6 | POSTN | HMGCS2 |
| SLC2A9 | HOXD13 | SRGAP3 | DECR1 | COX8C | PROZ | HNRNPR |
| SLC34A2 | HOXD4 | SST | DEFA4 | CPSF2 | PSPC1 | HNRNPU |
| SLC4A4 | HS1BP3 | SSUH2 | DEFB1 | CTSG | RB1 | HOOK1 |
| SLC7A11 | HS6ST1 | ST3GAL6 | DGAT1 | CYP46A1 | RCBTB1 | HORMAD1 |
| SLIT2 | HSPD1 | ST6GAL1 | DLC1 | DAAM1 | RFXAP | HPCA |
| SMAD1 | HSPE1 | STAG1 | DLGAP2 | DACT1 | RNASEH2B | HPCAL4 |
| SMARCAD1 | HTR2B | STT3B | DOK2 | DAD1 | RNF6 | HSD11B1 |
| SNCA | HTRA2 | STXBP5L | DPYS | DCAF11 | RXFP2 | HSD3B1 |
| SOD3 | ICOS | SUCLG2 | DPYSL2 | DCAF4 | SACS | HSD3B2 |
| SORBS2 | IDH1 | SUMF1 | E2F5 | DDHD1 | SETDB2 | HSPB7 |
| SPATA5 | IFIH1 | SYN2 | EBAG9 | DDX24 | SGCG | HSPG2 |
| SPP1 | IFT172 | SYNPR | EEF1D | DHRS1 | SLC10A2 | HTR6 |
| SPRY1 | IGFBP5 | TBC1D23 | EFR3A | DHRS2 | SLC15A1 | IARS2 |
| SRD5A3 | IGKC | TBL1XR1 | EGR3 | DHRS4 | SLC25A15 | IBA57 |
| SRP72 | IHH | TCTEX1D2 | EIF3E | DHRS4L1 | SLC25A30 | ID3 |
| STAP1 | IL18RAP | TDGF1 | EIF3H | DHRS4L2 | SLC7A1 | IFI16 |
| STIM2 | IL1A | TERC | ENPP2 | DHRS7 | SLITRK1 | IFI44L |
| SULT1B1 | IL1B | TF | EPHX2 | DICER1 | SLITRK5 | IGSF3 |
| SULT1E1 | IL1RL1 | TFG | EPPK1 | DIO2 | SLITRK6 | IGSF8 |
| TACC3 | IL1RN | TFRC | ERLIN2 | DLST | SMAD9 | IL10 |
| TACR3 | IL36B | TGFBR2 | ESCO2 | DNAAF2 | SOHLH2 | IL12RB2 |
| TAPT1 | IL36RN | TGM4 | EXOSC4 | DNAL1 | SPATA13 | IL19 |
| TBC1D1 | IMMT | THPO | EXT1 | DYNC1H1 | SPERT | INPP5B |
| TBC1D9 | INHA | THRB | EXTL3 | EIF2B2 | SPG20 | INSRR |
| TBCK | INHBB | TLR9 | EYA1 | EML1 | SPRY2 | IPP |
| TDO2 | INO80D | TMEM39A | FABP4 | ENTPD5 | STARD13 | IQGAP3 |
| TEC | INPP4A | TMEM43 | FABP5 | ERH | SUCLA2 | IRF2BP2 |
| TECRL | INPP5D | TMIE | FAM83H | ESR2 | TBC1D4 | IRF6 |
| TENM3 | INSIG2 | TNFSF10 | FAM91A1 | ESRRB | TGDS | ISG15 |
| TET2 | IRS1 | TNIK | FBXL6 | EXD2 | THSD1 | JAK1 |
| TLL1 | ITGA4 | TNK2 | FBXO32 | FAM161B | TMCO3 | JUN |
| TLR1 | ITGA6 | TNNC1 | FDFT1 | FAM177A1 | TNFSF11 | KANK4 |
| TLR10 | ITGB1BP1 | TOPBP1 | FGF17 | FANCM | TNFSF13B | KCNA2 |
| TLR2 | ITGB6 | TP63 | FGF20 | FLVCR2 | TPP2 | KCNA3 |
| TLR3 | ITM2C | TRAIP | FGFR1 | FOS | TPTE2P5 | KCNAB2 |
| TLR6 | ITSN2 | TRAK1 | FGL1 | FOXA1 | TRIM13 | KCND3 |
| TMEM165 | KCNE4 | TREX1 | FOXH1 | FOXG1 | TRPC4 | KCNH1 |
| TMPRSS11A | KCNH7 | TRH | FSBP | FOXN3 | UBAC2 | KCNJ10 |
| TRAPPC11 | KCNJ13 | TRMT10C | FZD3 | FRMD6 | UGGT2 | KCNJ9 |
| TRIM2 | KCNJ3 | TRNT1 | FZD6 | FSCB | UTP14C | KCNN3 |
| TRMT10A | KCNK3 | TRPC1 | GATA4 | FUT8 | WASF3 | KCNQ4 |
| TRMT44 | KCNS3 | TSEN2 | GDAP1 | GALC | ZIC2 | KDF1 |
| TRPC3 | KDM3A | TTC14 | GDF6 | GCH1 | ZMYM2 | KDM1A |
| UCHL1 | KHK | U4ATAC-CHR3 | GFRA2 | GEMIN2 | ZMYM5 | KIAA1614 |
| UCP1 | KIDINS220 | UBA3 | GGH | GLRX5 | ADAMTS1 | KIF14 |
| UFSP2 | KIF1A | UBA5 | GNRH1 | GOLGA5 | AIRE | KIF17 |
| UGDH | KIF3C | UBA7 | GPIHBP1 | GPHN | APP | KIF1B |
| UGT2A3 | KIF5C | ULK4 | GPT | GPR132 | ATP5J | KIF21B |
| UGT2B10 | KLF11 | UMPS | GRHL2 | GPR33 | ATP5O | KIF26B |
| UGT2B15 | KLF7 | UQCRC1 | GSR | GPR68 | B3GALT5 | KIFAP3 |
| UGT2B28 | KLHL41 | UROC1 | GTF2E2 | GPX2 | BRWD1 | KISS1 |
| UGT2B4 | KRTCAP3 | VHL | GULOP | GSC | C21ORF2 | KLHL17 |
| UGT2B7 | KYNU | VPS8 | HAS2 | GSTZ1 | C21ORF33 | KLHL20 |
| UGT8 | LCT | VWA5B2 | HEY1 | GZMB | C21ORF59 | KMO |
| UNC5C | LHCGR | WDR48 | HR | HIF1A | C21ORF91 | LAD1 |
| USP46 | LIMS2 | WDR6 | HSF1 | HOMEZ | CBR1 | LAMB3 |
| UVSSA | LIPT1 | WNT5A | IDO1 | HSP90AA1 | CBR3 | LAMC1 |
| VEGFC | LMAN2L | WNT7A | IKBKB | IFT43 | CBS | LAMC2 |
| WDFY3 | LOC100271832 | WWTR1 | IL7 | IGHA1 | CHAF1B | LAMTOR2 |
| WDR1 | LOC100507600 | XCR1 | IMPA1 | IGHG2 | CLDN14 | LAMTOR5 |
| WDR19 | LOC101928371 | XIRP1 | IMPAD1 | IGHM | CLIC6 | LAPTM5 |
| WFS1 | LOC102724058 | XPC | JPH1 | INF2 | COL18A1 | LBR |
| WHSC1 | LOXL3 | ZBTB11 | JRK | IRF9 | COL6A1 | LCE5A |
| WWC2 | LPIN1 | ZBTB11-AS1 | KAT6A | ISCA2 | COL6A2 | LCK |
| YTHDC1 | LRP1B | ZBTB20 | KCNB2 | ITPK1 | CRYAA | LDLRAD2 |
| ZGRF1 | LRP2 | ZFYVE20 | KCNK9 | JAG2 | CRYZL1 | LDLRAP1 |
| ZNF518B | LRPPRC | ZIC1 | KCNQ3 | KCNH5 | CSTB | LEFTY2 |
| ZNF721 | LRRTM1 | ZIC4 | KCNS2 | KLC1 | CXADR | LEPROT |
| ABCC2 | LRRTM4 | ZMYND10 | KCNU1 | KLHDC1 | DIP2A | LHX4 |
| ABLIM1 | LTBP1 | ZNF148 | KCNV1 | L2HGDH | DNMT3L | LHX8 |
| ACADSB | LY75 | ZNF35 | KIAA0196 | LINC00523 | DSCAM | LHX9 |
| ACBD5 | MAL | ZNF445 | KIAA1429 | LOC100506071 | DSCR8 | LIN28A |
| ACSL5 | MAP2 | ZNF589 | KIF13B | LOC102724153 | DYRK1A | LMNA |
| ACTA2 | MAP4K3 | ZNF620 | KLF10 | LRFN5 | ERG | LMO4 |
| ADAM12 | MAP4K4 | ZNF80 | LAPTM4B | LTBP2 | ETS2 | LOC100505666 |
| ADD3 | MARS2 | ABCA7 | LINC00599 | MAP3K9 | FTCD | LOC100506801 |
| ADK | MAT2A | ACP5 | LOXL2 | MAP4K5 | GABPA | LOC100527964 |
| ADRA2A | MATN3 | ACPT | LPL | MAX | GRIK1 | LOR |
| ADRB1 | MBD5 | ACTN4 | LRRC6 | MDGA2 | GRIK1-AS2 | LPAR3 |
| AGAP6 | MCEE | ADAMTS10 | LRRC69 | MGAT2 | IFNAR1 | LPHN2 |
| AIFM2 | MCFD2 | ADAT3 | LY6E | MIPOL1 | IFNAR2 | LRIG2 |
| AKR1C3 | MCM6 | ADCK4 | LY96 | MIS18BP1 | IFNGR2 | LRP8 |
| AKR1C4 | MDH1 | ADGRE2 | LYN | MLH3 | IL10RB | LRRC41 |
| AKR1E2 | MEIS1 | ADGRL1 | LZTS1 | MMP14 | ITGB2 | LRRC7 |
| ALDH18A1 | MERTK | AKT2 | MAFA | MOK | ITSN1 | LUZP1 |
| ALOX5 | METTL8 | ALDH16A1 | MAK16 | MRPL52 | KCNE1 | LYPLAL1 |
| ANK3 | MFF | ALKBH7 | MCM4 | MTA1 | KCNE2 | LYST |
| ANKRD1 | MGAT4A | AMH | MCPH1 | MTHFD1 | KCNJ15 | MACF1 |
| ANKRD22 | MGAT5 | ANGPTL4 | MRPL13 | MYH6 | KCNJ6 | MAD2L2 |
| ANXA11 | MLPH | ANGPTL6 | MRPL15 | MYH7 | LIPI | MAN1A2 |
| APBB1IP | MLTK | AP2A1 | MSC | NDUFB1 | LSS | MAP3K6 |
| ARHGAP21 | MOB4 | AP2S1 | MSR1 | NEK9 | LTN1 | MAP7D1 |
| ARL3 | MOGS | AP3D1 | MSRA | NFATC4 | MCM3AP | MASP2 |
| ARMS2 | MPHOSPH10 | APOC1 | MTMR9 | NFKBIA | MRAP | MAST2 |
| AS3MT | MPP4 | APOC2 | MTSS1 | NID2 | MRPL39 | MCL1 |
| ATE1 | MPV17 | APOC4 | MTUS1 | NIN | MRPS6 | MDM4 |
| ATOH7 | MREG | APOC4-APOC2 | MYC | NKX2-1 | MX1 | MECR |
| ATP5C1 | MRPL19 | APOE | MYOM2 | NPAS3 | NDUFV3 | MED8 |
| ATRNL1 | MRPL35 | ARHGEF18 | NAPRT1 | NPC2 | NRIP1 | MEF2D |
| BAG3 | MRPL44 | ATCAY | NAT1 | NRL | OLIG2 | MFN2 |
| BAMBI | MRPL53 | ATF5 | NAT2 | NRXN3 | PCBP3 | MFSD2A |
| BBIP1 | MRPS5 | ATP1A3 | NBN | NUBPL | PCNT | MGST3 |
| BCCIP | MRPS9 | ATP4A | NCALD | NYNRIN | PCP4 | MIA3 |
| BICC1 | MSH6 | ATP5D | NCOA2 | OTX2 | PFKL | MIIP |
| BLNK | MSTN | ATP5SL | NDRG1 | OXA1L | PKNOX1 | MLLT11 |
| BMI1 | MXD1 | ATP8B3 | NDUFAF6 | PABPN1 | POFUT2 | MMACHC |
| BMPR1A | MYCN | AURKC | NDUFB9 | PARP2 | RCAN1 | MMEL1 |
| BMS1 | MYL1 | AXL | NEFL | PAX9 | RIPK4 | MOV10 |
| BTAF1 | MYO3B | B3GNT3 | NEFM | PCK2 | RRP1B | MPL |
| BTRC | MYO7B | B3GNT8 | NEIL2 | PLEKHH1 | RSPH1 | MPZ |
| BUB3 | MYT1L | B9D2 | NKAIN3 | PNN | RUNX1 | MR1 |
| C10ORF105 | NAT8 | BCAM | NKX2-6 | PNP | SIK1 | MRPL20 |
| C10ORF11 | NBAS | BCAT2 | NKX3-1 | POLE2 | SIM2 | MRPL24 |
| C10ORF2 | NCAPH | BCKDHA | NRG1 | POMT2 | SLC19A1 | MRPL37 |
| C10ORF53 | NCK2 | BCL3 | NSMCE2 | PPP2R5C | SLC37A1 | MRPL55 |
| C10ORF55 | NCKAP1 | BLOC1S3 | OPLAH | PRIMA1 | SLC5A3 | MRPL9 |
| CACNB2 | NCOA1 | BRD4 | OPRK1 | PRKCH | SOD1 | MRPS14 |
| CALHM1 | NDUFA10 | BRSK1 | PARP10 | PRKD1 | SON | MRPS15 |
| CAMK2G | NDUFAF7 | BSG | PCM1 | PROX2 | SYNJ1 | MRPS21 |
| CC2D2B | NDUFB3 | C19ORF12 | PDGFRL | PRPF39 | TFF1 | MRTO4 |
| CCDC6 | NDUFS1 | C19ORF18 | PDP1 | PSEN1 | TIAM1 | MSH4 |
| CDH23 | NEU2 | C19ORF70 | PENK | PSMA3 | TMEM50B | MTF1 |
| CDHR1 | NEUROD1 | C19ORF80 | PEX2 | PSMA6 | TMPRSS15 | MTHFR |
| CFAP58 | NFE2L2 | C3 | PI15 | PTGDR | TMPRSS3 | MTOR |
| CH25H | NFU1 | C5AR2 | PINX1 | PTGER2 | TPTE | MTR |
| CHAT | NHEJ1 | CACNA1A | PKHD1L1 | PTPN21 | TRAPPC10 | MUC1 |
| CHST3 | NLRC4 | CALM3 | PLAG1 | PYGL | TRPM2 | MUTYH |
| CHUK | NMS | CALR | PLAT | RABGGTA | TSPEAR | MXRA8 |
| CNNM2 | NPAS2 | CALR3 | PLEC | RALGAPA1 | TTC3 | MYBPHL |
| COL13A1 | NPHP1 | CAPN12 | PMP2 | RCOR1 | U2AF1 | MYCL |
| COL17A1 | NPPC | CARD8 | POLB | RDH11 | URB1 | MYOC |
| COMMD3-BMI1 | NR4A2 | CARM1 | POLR3D | RDH12 | WDR4 | MYSM1 |
| COX15 | NRP2 | CASP14 | POMK | RGS6 | YBEY | NADK |
| CPN1 | NRXN1 | CBLC | POP1 | RIPK3 | ABCB7 | NCF2 |
| CSTF2T | NT5C1B | CC2D1A | POU5F1B | RNASE2 | ABCD1 | NCSTN |
| CTBP2 | NT5C1B-RDH14 | CCDC151 | PPP2CB | RNASE3 | ACSL4 | NDUFS2 |
| CTNNA3 | NTSR2 | CCDC8 | PPP2R2A | RNASE4 | ADGRG2 | NDUFS5 |
| CUBN | OBSL1 | CCER2 | PREX2 | RNF31 | AFF2 | NEGR1 |
| CUL2 | ODC1 | CCNE1 | PRKDC | RPGRIP1 | AGTR2 | NEXN |
| CUTC | ORC4 | CD209 | PROSC | RPS29 | AIFM1 | NFASC |
| CUZD1 | OSR1 | CD22 | PSCA | RPS6KL1 | ALAS2 | NFIA |
| CWF19L1 | OTOF | CD320 | PSD3 | SALL2 | ALG13 | NGF |
| CXCL12 | PARD3B | CD33 | PTDSS1 | SDR39U1 | AMELX | NID1 |
| CYP17A1 | PASK | CD3EAP | PTK2B | SEC23A | AMER1 | NLRP3 |
| CYP26A1 | PAX3 | CD79A | PUF60 | SEL1L | AMMECR1 | NME7 |
| CYP26C1 | PAX8 | CDKN2D | PXDNL | SERPINA1 | AMOT | NMNAT1 |
| CYP2C18 | PDCD1 | CEACAM16 | PYCRL | SERPINA10 | ANOS1 | NOS1AP |
| CYP2C19 | PDE11A | CEACAM5 | RAB2A | SERPINA3 | AP1S2 | NPHP4 |
| CYP2C8 | PDE6D | CEBPA | RAD21 | SERPINA5 | APEX2 | NPHS2 |
| CYP2C9 | PDK1 | CEBPG | RAD54B | SERPINA6 | APOOL | NPL |
| CYP2E1 | PECR | CEP89 | RB1CC1 | SIPA1L1 | AR | NPPA |
| DCLRE1A | PER2 | CFD | RDH10 | SIX1 | ARAF | NPPB |
| DHTKD1 | PEX13 | CHMP2A | RECQL4 | SIX6 | ARHGAP4 | NPR1 |
| DIP2C | PGAP1 | CHST8 | RHOBTB2 | SLC10A1 | ARHGAP6 | NR0B2 |
| DKK1 | PIGF | CIC | RIMS2 | SLC22A17 | ARHGEF9 | NR1I3 |
| DLG5 | PIKFYVE | CILP2 | RIPK2 | SLC24A4 | ARSE | NR5A2 |
| DNA2 | PKP4 | CKM | RNF139 | SLC25A21 | ARSF | NRAS |
| DNAJC12 | PLA2R1 | CLEC11A | RNF170 | SLC25A21-AS1 | ARSH | NT5C1A |
| DNAJC9 | PLB1 | CLEC4M | RNF19A | SLC25A29 | ASMT | NTRK1 |
| DPCD | PLCD4 | CLPP | RP1 | SLC7A7 | ASMTL | NUDC |
| EBF3 | PLEKHH2 | CLPTM1 | RP1L1 | SLC7A8 | ATP11C | OAZ3 |
| ECHS1 | PNKD | CNOT3 | RPS20 | SMOC1 | ATP1B4 | OBSCN |
| EDRF1 | PNPT1 | COL5A3 | RRM2B | SOCS4 | ATP2B3 | OPRD1 |
| EGR2 | POLR1A | COMP | RUNX1T1 | SOS2 | ATP6AP1 | OPTC |
| EMX2 | POMC | COX6B1 | SCRIB | SPATA7 | ATP6AP2 | OR10X1 |
| ENTPD1 | PPIG | COX7A1 | SFRP1 | SPTB | ATP7A | OR13G1 |
| EPC1 | PPM1B | CPAMD8 | SFTPC | SPTLC2 | ATRX | OR2M2 |
| ERCC6 | PPM1G | CPT1C | SGCZ | STRN3 | ATXN3L | OR2W3 |
| ERCC6-PGBD3 | PPP1CB | CREB3L3 | SGK223 | SUPT16H | AVPR2 | ORC1 |
| ERLIN1 | PPP3R1 | CRTC1 | SHARPIN | SYNE2 | BCAP31 | OVGP1 |
| FAM160B1 | PRADC1 | CRX | SLC18A1 | TCL1A | BCOR | P3H1 |
| FAM175B | PREPL | CSNK1G2 | SLC20A2 | TDP1 | BCORL1 | PADI2 |
| FAS | PRKAG3 | CYP2A13 | SLC25A32 | TECPR2 | BEX4 | PADI3 |
| FBXO18 | PRKD3 | CYP2A6 | SLC25A37 | TEP1 | BGN | PADI4 |
| FBXW4 | PRKRA | CYP2A7 | SLC30A8 | TGFB3 | BMP15 | PADI6 |
| FFAR4 | PRLH | CYP2B6 | SLC35G5 | TGM1 | BRCC3 | PAPPA2 |
| FGF8 | PROC | CYP2F1 | SLC39A14 | TINF2 | BRWD3 | PARK7 |
| FGFR2 | PROKR1 | CYP2G1P | SLC39A4 | TNFAIP2 | BTK | PARP1 |
| GAD2 | PRSS56 | CYP2S1 | SLC52A2 | TRAC | C1GALT1C1 | PARS2 |
| GATA3 | PTH2R | CYP4F11 | SLC7A2 | TRAF3 | CACNA1F | PAX7 |
| GBF1 | PTPN18 | CYP4F12 | SLCO5A1 | TRAJ29 | CASK | PBX1 |
| GDF2 | PUS10 | CYP4F2 | SLURP1 | TRAJ32 | CCDC160 | PCSK9 |
| GFRA1 | PXDN | CYP4F22 | SNAI2 | TRAJ54 | CCDC22 | PDE4B |
| GJD4 | RAB10 | CYP4F3 | SNTB1 | TRAV38-2DV8 | CD40LG | PEAR1 |
| GLUD1 | RAB11FIP5 | CYP4F8 | SNTG1 | TRD | CD99L2 | PER3 |
| GOT1 | RANBP2 | DAPK3 | SNX31 | TRDV2 | CDK16 | PEX10 |
| GPAM | RAPGEF4 | DHDH | SOX17 | TRIP11 | CDKL5 | PEX11B |
| GPRIN2 | RBM43 | DHX34 | SOX7 | TRMT5 | CDR1 | PEX14 |
| GRID1 | REEP1 | DLL3 | SPAG1 | TSHR | CFP | PEX19 |
| GRK5 | REG1A | DMPK | SQLE | TSSK4 | CHRDL1 | PGD |
| GSTO1 | RFX8 | DNAAF3 | ST3GAL1 | TTC5 | CHST7 | PGM1 |
| GSTO2 | RHOB | DNASE2 | STAR | TTC8 | CLCN4 | PHC2 |
| HABP2 | RIF1 | DNM2 | STK3 | TTLL5 | CLCN5 | PHGDH |
| HELLS | RMDN2 | DNMT1 | SULF1 | UBR7 | CLDN2 | PIGC |
| HHEX | RNASEH1 | DOCK6 | TAF2 | UNC79 | CNGA2 | PIGM |
| HIF1AN | RNU4ATAC | DOT1L | TATDN1 | VIPAS39 | CNKSR2 | PIGR |
| HMX2 | ROCK2 | DYRK1B | TEX15 | VRK1 | COL4A5 | PIGV |
| HNRNPH3 | RPIA | ECSIT | TG | VSX2 | COX7B | PIK3C2B |
| HOGA1 | RPL31 | EEF2 | THAP1 | WARS | CSAG1 | PIK3CD |
| HPS1 | RPS27A | EGLN2 | TMEM249 | XRCC3 | CSTF2 | PIK3R3 |
| HPS6 | RPS7 | EHD2 | TMEM67 | YY1 | CUL4B | PINK1 |
| HPSE2 | SAG | EIF3G | TMEM70 | ZBTB42 | CXCR3 | PINK1-AS |
| HTR7 | SATB2 | ELANE | TNFRSF10A | ZC3H14 | CXORF36 | PKLR |
| HTRA1 | SCG2 | ELL | TNFRSF10B | ZFP36L1 | CYBB | PKP1 |
| IDE | SCN1A | EMR1 | TNFRSF11B | ZFYVE26 | CYSLTR1 | PLA2G2A |
| IKZF5 | SCN2A | EPOR | TNKS | ADCYAP1 | DCX | PLA2G2D |
| IL2RA | SCN3A | ERCC1 | TONSL | AFG3L2 | DDX3X | PLA2G4A |
| INA | SCN7A | ERCC2 | TOP1MT | APCDD1 | DDX53 | PLA2G5 |
| IPMK | SCN9A | ERF | TRAPPC9 | AQP4 | DGAT2L6 | PLEKHA6 |
| ITGA8 | SEMA4C | ETFB | TRHR | ASXL3 | DGKK | PLEKHG5 |
| ITPRIP | SF3B1 | ETHE1 | TRIB1 | ATP5A1 | DIAPH2 | PLEKHM2 |
| JMJD1C | SFTPB | EVI5L | TRIM55 | ATP8B1 | DKC1 | PLOD1 |
| KAT6B | SGPP2 | EXOSC5 | TRPA1 | B4GALT6 | DLG3 | PMVK |
| KCNK18 | SH3BP4 | FAAP24 | TRPS1 | BCL2 | DMD | POGZ |
| KCNMA1 | SIX2 | FARSA | TTI2 | C18ORF56 | DNASE1L1 | POMGNT1 |
| KIAA1217 | SIX3 | FBN3 | TTPA | C18ORF8 | DRP2 | PPFIA4 |
| KIAA1279 | SLC19A3 | FCAR | TUSC3 | CCBE1 | EBP | PPOX |
| KIAA1462 | SLC1A4 | FCER2 | UBR5 | CD226 | EDA | PPP1R12B |
| KIF11 | SLC25A12 | FCGRT | UQCRB | CDH7 | EDA2R | PPP1R15B |
| KIF5B | SLC30A3 | FDX1L | VPS13B | CELF4 | EFHC2 | PPT1 |
| KIN | SLC30A6 | FEM1A | VPS37A | CFAP53 | EFNB1 | PQLC2 |
| KLF6 | SLC35F5 | FFAR1 | WHSC1L1 | CHST9 | EIF2S3 | PRAMEF2 |
| KLLN | SLC40A1 | FGF22 | WRN | CIDEA | ELF4 | PRCC |
| LDB1 | SLC4A10 | FKBP8 | WWP1 | CNDP1 | ELK1 | PRDM16 |
| LDB3 | SLC4A3 | FKRP | XKR4 | CNDP2 | EMD | PRDM2 |
| LGI1 | SLC4A5 | FOXA3 | XKR6 | CYB5A | F8 | PRDX1 |
| LIPA | SLC5A6 | FPR1 | XKR9 | DCC | F9 | PRG4 |
| LIPK | SLC5A7 | FPR2 | XPO7 | DLGAP1 | FAAH2 | PRKAA2 |
| LIPN | SLC8A1 | FTL | YWHAZ | DSC2 | FAM120C | PRKACB |
| MAP3K8 | SMARCAL1 | FUT1 | ZC3H3 | DSC3 | FAM199X | PRKCZ |
| MAPK8 | SNORD56-CHR2 | FUT2 | ZDHHC2 | DSG1 | FAM47B | PROK1 |
| MASTL | SNRNP200 | FUT3 | ZFAT | DSG2 | FAM58A | PROX1 |
| MAT1A | SNTG2 | FUT6 | ZFHX4 | DSG3 | FAM9C | PRPF3 |
| MBL2 | SNX17 | FUZ | ZFPM2 | DSG4 | FANCB | PRRC2C |
| MCM10 | SOS1 | GADD45B | ZHX2 | DTNA | FGD1 | PRRX1 |
| MGEA5 | SOX11 | GALP | ZNF34 | DYM | FGF13 | PRSS38 |
| MGMT | SP100 | GAMT | AMELY-CHRY | DYNAP | FGF16 | PRUNE |
| MICU1 | SP110 | GAPDHS | CD24-CHRY | ELP2 | FHL1 | PSEN2 |
| MINPP1 | SPAG16 | GCDH | DDX3Y-CHRY | ENOSF1 | FIGF | PSMB4 |
| MKI67 | SPAST | GDF15 | NLGN4Y-CHRY | EPG5 | FLNA | PSMD4 |
| MMP21 | SPEG | GIPC1 | RPS4Y1-CHRY | FECH | FMR1 | PTAFR |
| MMRN2 | SPP2 | GIPC3 | RPS4Y2-CHRY | FHOD3 | FOXO4 | PTCH2 |
| MPP7 | SPR | GIPR | SRY-CHRY | GATA6 | FOXP3 | PTGS2 |
| MRPL43 | SPRED2 | GLTSCR1 | TBL1Y-CHRY | GNAL | FRMD7 | PTPN14 |
| MRPS16 | SPTBN1 | GMIP | TTTY13-CHRY | HMSD | FRMPD4 | PTPN22 |
| MSMB | SRD5A2 | GNA11 | USP9Y-CHRY | IER3IP1 | FTHL17 | PTPRC |
| MSRB2 | SRSF7 | GNG7 | ZFY-CHRY | KATNAL2 | FTSJ1 | PTPRF |
| MTPAP | ST3GAL5 | GP6 | A2M | KCTD1 | FUNDC2 | PTPRU |
| MXI1 | ST6GAL2 | GPI | A2ML1 | LAMA1 | G6PD | PVRL4 |
| MYO3A | STAMBP | GPX4 | AAAS | LAMA3 | GABRE | PYCR2 |
| MYOF | STAT1 | GTPBP3 | ABCC9 | LDLRAD4 | GABRQ | PYGO2 |
| MYOZ1 | STAT4 | GYS1 | ACACB | LINC00470 | GATA1 | PYHIN1 |
| MYPN | STEAP3 | HAMP | ACADS | LIPG | GDI1 | RAB25 |
| NANOS1 | STK11IP | HAPLN4 | ACVR1B | LMAN1 | GJB1 | RAB29 |
| NCOA4 | STK36 | HAS1 | ACVRL1 | LOC100652770 | GK | RAB3GAP2 |
| NDST2 | STK39 | HAUS8 | ADCY6 | LOXHD1 | GLA | RAD54L |
| NDUFB8 | SUCLG1 | HCST | ADIPOR2 | LPIN2 | GLRA2 | RASSF5 |
| NEBL | SULT1C3 | HDGFRP2 | AGAP2 | MALT1 | GLRA4 | RBBP5 |
| NET1 | SULT1C4 | HMHA1 | AICDA | MAPRE2 | GLUD2 | RBM15 |
| NEUROG3 | TACR1 | HNRNPUL1 | AKAP3 | MBD1 | GNL3L | RBM8A |
| NFKB2 | TANC1 | HRC | ALDH1L2 | MBP | GPC3 | RC3H1 |
| NKX2-3 | TBR1 | HSD17B14 | ALDH2 | MC2R | GPC4 | RD3 |
| NMT2 | TCF7L1 | HSPB6 | ALG10 | MC4R | GPR101 | REN |
| NODAL | TFPI | ICAM1 | ALG10B | ME2 | GPR112 | RERE |
| NRG3 | TGFBRAP1 | ICAM4 | ALX1 | MEP1B | GPR143 | RFX5 |
| NRP1 | THSD7B | ICAM5 | AMHR2 | MIB1 | GPR174 | RGL1 |
| NT5C2 | TIA1 | IER2 | ANAPC5 | MOCOS | GRIA3 | RGS2 |
| OAT | TLK1 | IFI30 | ANAPC7 | MYO5B | GRIPAP1 | RGS5 |
| OBFC1 | TLX2 | IFNL3 | ANKRD13A | MYOM1 | GRPR | RGS7 |
| OGDHL | TM4SF20 | IFNL4 | ANKS1B | NARS | GSPT2 | RIMS3 |
| OPN4 | TMEM127 | IL11 | ANO6 | NDUFV2 | GUCY2F | RIT1 |
| OPTN | TMEM17 | IL27RA | APAF1 | NEDD4L | GYG2 | RLF |
| PAPSS2 | TMEM18 | IL4I1 | APOBEC1 | NETO1 | H2BFWT | RNASEL |
| PARD3 | TMEM237 | ILF3 | APOF | NFATC1 | HCCS | RNF207 |
| PAX2 | TMEM87B | ILVBL | APPL2 | NPC1 | HCFC1 | RNPC3 |
| PBLD | TNP1 | INSR | AQP2 | OSBPL1A | HDAC6 | RORC |
| PCBD1 | TNS1 | IRF3 | AQP5 | PIEZO2 | HDAC8 | RPE65 |
| PDCD11 | TP53I3 | ISYNA1 | ARID2 | PIGN | HDX | RPL11 |
| PDE6C | TPO | ITPKC | ARPC3 | PIK3C3 | HEPH | RPL5 |
| PDSS1 | TRAF3IP1 | JAK3 | ART4 | PMAIP1 | HMGB3 | RPS27 |
| PGAM1 | TRAK2 | JUNB | ASCL1 | PSTPIP2 | HNRNPH2 | RPS6KA1 |
| PGBD3 | TRIB2 | KANK2 | ASUN | PTPN2 | HPRT1 | RPS6KC1 |
| PHYH | TRIM54 | KCNC3 | ATF1 | RAB27B | HSD17B10 | RRAGC |
| PIK3AP1 | TRIP12 | KCNK6 | ATN1 | RAX | HTATSF1 | RSC1A1 |
| PIP4K2A | TTC21B | KCNN4 | ATP2A2 | RBBP8 | HTR2C | RSPO1 |
| PITRM1 | TUBA3E | KEAP1 | ATP5B | RIT2 | HUWE1 | RUNX3 |
| PITX3 | TUBA4A | KIR2DL3 | ATP5G2 | RNF125 | IDH3G | RXRG |
| PLAU | TWIST2 | KIR3DL1 | ATP6V0A2 | ROCK1 | IDS | RYR2 |
| PLCE1 | UBR3 | KIR3DL2 | ATXN2 | RTTN | IGBP1 | S100A14 |
| PLEKHA1 | UCN | KISS1R | AVIL | SERPINB11 | IGSF1 | S100A3 |
| PNLIP | UGGT1 | KLC3 | AVPR1A | SERPINB3 | IL1RAPL1 | S1PR1 |
| POLL | UGT1A1 | KLF1 | B3GNT4 | SERPINB4 | IL1RAPL2 | SAMD11 |
| POLR3A | UGT1A10 | KLK1 | B4GALNT1 | SERPINB5 | IL2RG | SARS |
| PPP1R3C | UGT1A3 | KLK12 | B4GALNT3 | SERPINB7 | IL3RA | SASS6 |
| PRF1 | UGT1A4 | KLK15 | BBS10 | SERPINB8 | IL9R | SCNM1 |
| PRKCQ | UGT1A5 | KLK3 | BCAT1 | SETBP1 | INE1 | SCNN1D |
| PRKG1 | UGT1A6 | KLK4 | BCL7A | SKA1 | IQSEC2 | SCP2 |
| PRLHR | UGT1A7 | KLK7 | BHLHE41 | SLC14A1 | IRAK1 | SDCCAG8 |
| PSAP | UGT1A8 | KPTN | BICD1 | SLC14A2 | IRS4 | SDHB |
| PTCHD3 | UGT1A9 | KXD1 | BLOC1S1 | SMAD2 | ITIH6 | SDHC |
| PTEN | UNC50 | LDLR | BLOC1S1-RDH5 | SMAD4 | KCNE1L | SEC16B |
| PTF1A | UNC80 | LENG1 | BRAP | SMAD7 | KDM5C | SELE |
| RAB18 | USP34 | LGALS13 | C12ORF10 | SMCHD1 | KDM6A | SELL |
| RASSF4 | VIL1 | LGI4 | C12ORF29 | ST8SIA3 | KIAA1210 | SELP |
| RBM20 | VPS54 | LHB | C12ORF4 | ST8SIA5 | KIAA2022 | SEMA4A |
| RBP3 | VRK2 | LIG1 | C12ORF43 | TAF4B | KLF8 | 15-Sep |
| RBP4 | VWA3B | LILRA3 | C12ORF57 | TGIF1 | KLHL13 | SERPINC1 |
| RET | WDR35 | LILRB2 | C12ORF65 | TMX3 | KLHL15 | SESN2 |
| RGR | WIPF1 | LIM2 | C1R | TSHZ1 | L1CAM | SETDB1 |
| RNLS | WNT10A | LIN7B | C1S | TTR | LAMP2 | SF3B4 |
| RPP30 | WNT6 | LIPE | C2CD5 | TWSG1 | LAS1L | SFPQ |
| RPS24 | XDH | LMNB2 | C3AR1 | TXNL4A | LUZP4 | SH2D2A |
| RUFY2 | XIRP2 | LMTK3 | CACNA1C | TYMS | MAGEA4 | SHC1 |
| SEMA4G | XRCC5 | LONP1 | CACNA2D4 | VPS4B | MAGEC3 | SKI |
| SFTPA1 | ZAP70 | LRP3 | CAMKK2 | YES1 | MAGED2 | SLC16A1 |
| SFTPA2 | ZC3H6 | LTBP4 | CBX5 | ZNF236 | MAGEE2 | SLC19A2 |
| SFTPD | ZDBF2 | LYL1 | CCDC65 | ZNF24 | MAMLD1 | SLC22A15 |
| SFXN4 | ZEB2 | MAG | CCND2 | ZNF407 | MAOA | SLC25A33 |
| SHOC2 | ZFP36L2 | MAN2B1 | CCT2 | ZNF519 | MAOB | SLC25A34 |
| SIRT1 | ZNF2 | MAP2K2 | CD163 | ZNF532 | MAP7D3 | SLC25A44 |
| SLC16A12 | ZNF385B | MAP2K7 | CD163L1 | AARS | MBTPS2 | SLC26A9 |
| SLC18A2 | ZNF513 | MARK4 | CD27 | ABAT | MCF2 | SLC2A1 |
| SLC18A3 | ZNF638 | MAST1 | CD4 | ABCA3 | MCTS1 | SLC2A5 |
| SLC25A16 | ZNF804A | MBD3 | CD9 | ABCC1 | MECP2 | SLC30A10 |
| SLC25A28 | ABCC8 | MBOAT7 | CDK2 | ABCC11 | MED12 | SLC30A2 |
| SLC29A3 | ACAD8 | MCOLN1 | CDK4 | ABCC12 | MID1 | SLC35A3 |
| SLC39A12 | ACAT1 | MED25 | CDKN1B | ABCC6 | MID1IP1 | SLC35D1 |
| SLIT1 | ACCS | MED29 | CELA1 | ACD | MID2 | SLC35F3 |
| SLK | ACCSL | MEF2B | CEP290 | ACSF3 | MMGT1 | SLC41A1 |
| SMC3 | ACP2 | MEF2BNB-MEF2B | CEP83 | ACSM2B | MSN | SLC5A9 |
| SMNDC1 | ACTN3 | MEGF8 | CHD4 | ADAMTS18 | MTM1 | SLC6A17 |
| SNCG | ADAMTS15 | MIA | CHPT1 | ADCY9 | MTMR8 | SLC6A9 |
| SORCS1 | ADM | MRI1 | CHST11 | ADGRG1 | NAA10 | SLC9A1 |
| SPAG6 | AHNAK | MRPL34 | CIT | AGRP | NAP1L2 | SMAP2 |
| SPRN | AIP | MRPL4 | CLEC2D | AHSP | NDP | SMIM1 |
| ST8SIA6 | ALDH3B1 | MRPL54 | CLEC4C | AKTIP | NDUFA1 | SMYD3 |
| STAMBPL1 | ALDH3B2 | MRPS12 | CLEC4D | ALDOA | NDUFB11 | SNIP1 |
| SUFU | ALG9 | MUM1 | CLEC7A | ALG1 | NLGN3 | SNRPE |
| SVIL | ALX4 | MYBPC2 | CLIP1 | ANKRD11 | NLGN4X | SNX27 |
| SYCE1 | AMPD3 | MYH14 | CNTN1 | AP1G1 | NONO | SOAT1 |
| TACC2 | ANGPTL5 | MYO1F | COL2A1 | APRT | NOX1 | SORT1 |
| TCTN3 | ANKK1 | MYO9B | COQ5 | ARL2BP | NR0B1 | SPAG17 |
| TECTB | ANO3 | NACC1 | COX14 | ARL6IP1 | NSDHL | SPEN |
| TET1 | ANO5 | NANOS3 | COX6A1 | ARMC5 | NXF3 | SPRR3 |
| TFAM | AP001350.1 | NCAN | CRADD | ATP2A1 | NYX | SPRTN |
| TIAL1 | APBB1 | NDUFA11 | CRY1 | ATP6V0C | OCRL | SPSB1 |
| TLX1 | APIP | NDUFA13 | CUX2 | AXIN1 | OFD1 | SPTA1 |
| TM9SF3 | APLNR | NDUFA3 | CYP27B1 | BAIAP3 | OGT | ST3GAL3 |
| TRIM8 | APOA1 | NDUFA7 | DAO | BBS2 | OPHN1 | ST6GALNAC3 |
| TUBAL3 | APOA4 | NDUFB7 | DCN | BCAR1 | OR13H1 | ST6GALNAC5 |
| TUBB8 | APOA5 | NDUFS7 | DCP1B | BCKDK | OTC | STIL |
| UPF2 | APOC3 | NFIX | DCTN2 | BCO1 | P2RY4 | STMN1 |
| UROS | ARAP1 | NLRP12 | DDIT3 | C16ORF58 | PAK3 | STXBP3 |
| USMG5 | ARCN1 | NLRP2 | DDX11 | C16ORF93 | PCDH19 | SUCO |
| USP54 | ARHGAP32 | NLRP5 | DDX47 | CA5A | PDHA1 | SV2A |
| UTF1 | ARHGEF12 | NLRP7 | DHH | CACNA1H | PDK3 | SYT11 |
| VAX1 | ARL14EP | NOTCH3 | DHX37 | CACNG3 | PFKFB1 | SYT2 |
| VCL | ASRGL1 | NPHS1 | DIABLO | CAPN15 | PGK1 | TACSTD2 |
| VIM | ATL3 | NR1H2 | DIP2B | CASC16 | PGRMC1 | TAF13 |
| WAC | ATM | NR2C2AP | DNAH10 | CBFA2T3 | PHEX | TAGLN2 |
| WDFY4 | B3GAT1 | NRTN | DNM1L | CBFB | PHF6 | TAL1 |
| WDR11 | B3GAT3 | NTF4 | DPY19L2 | CCDC78 | PHF8 | TARDBP |
| XPNPEP1 | B3GNT6 | NUMBL | DUSP6 | CCL17 | PHKA1 | TARS2 |
| YME1L1 | B4GAT1 | NUP62 | DYRK4 | CCL22 | PHKA2 | TAS1R1 |
| ZEB1 | BACE1 | NWD1 | EEA1 | CCNF | PIGA | TAS1R2 |
| ZFYVE27 | BANF1 | NXNL1 | EIF2B1 | CD19 | PIH1D3 | TAS1R3 |
| ZMYND11 | BARX2 | OAZ1 | ELK3 | CDH1 | PIR | TBCE |
| AAGAB | BBS1 | OCEL1 | EMG1 | CDH11 | PLP1 | TBX15 |
| ACTC1 | BCL9L | OLFM2 | EPS8 | CDH13 | PLP2 | TBX19 |
| ADAM10 | BDNF | OPA3 | EPYC | CDH15 | PLS3 | TCEB3 |
| ADAMTS17 | BEST1 | OR7D4 | ERBB3 | CDH16 | PLXNA3 | TCHH |
| AGBL1 | BIRC3 | P2RY11 | ESPL1 | CDH3 | PLXNB3 | TCHHL1 |
| AKAP13 | BRSK2 | PAFAH1B3 | ETV6 | CDH5 | PNPLA4 | TEKT2 |
| ALDH1A2 | BSCL2 | PBX4 | FAM186B | CDH8 | POF1B | TESK2 |
| ALDH1A3 | C11ORF40 | PDCD5 | FAM222A | CDIP1 | POLA1 | TGFB2 |
| ALPK3 | C11ORF73 | PDE4C | FAM71C | CDK10 | PORCN | TGFBR3 |
| AP3B2 | C11ORF91 | PEPD | FGD4 | CDT1 | POU3F4 | THRAP3 |
| AP3S2 | C1QTNF5 | PET100 | FGF23 | CENPBD1 | PRAF2 | TLR5 |
| AP4E1 | CABP2 | PEX11G | FKBP4 | CES2 | PRDX4 | TMCO1 |
| APBA2 | CABP4 | PIK3R2 | FOXM1 | CETP | PRICKLE3 | TMEM167B |
| APH1B | CADM1 | PIN1 | FZD10 | CFDP1 | PRPS1 | TMEM201 |
| ARIH1 | CALCA | PIP5K1C | GABARAPL1 | CHMP1A | PRPS2 | TMEM240 |
| ARNT2 | CAPN1 | PLA2G4C | GALNT6 | CHST5 | PTCHD1 | TMEM69 |
| ATP10A | CAPN5 | PLAUR | GALNT8 | CHST6 | RAB39B | TMEM81 |
| B2M | CAPRIN1 | PLD3 | GALNT9 | CIAPIN1 | RAB40AL | TMEM9 |
| BBS4 | CASP1 | PLEKHG2 | GAPDH | CIITA | RBM10 | TNFRSF14 |
| BCL2A1 | CASP12 | PLIN4 | GDF3 | CIRH1A | RBMX | TNFRSF1B |
| BLM | CASP5 | PLVAP | GLI1 | CLCN7 | RENBP | TNFRSF25 |
| BLOC1S6 | CAT | PNKP | GLIPR1L2 | CLEC16A | REPS2 | TNFRSF4 |
| BUB1B | CATSPER1 | PNPLA6 | GNB3 | CLEC3A | RIPPLY1 | TNFRSF9 |
| C15ORF41 | CBL | POLD1 | GNPTAB | CLUAP1 | RLIM | TNFSF18 |
| C15ORF62 | CCDC86 | POLR2E | GNS | CNGB1 | RNF113A | TNFSF4 |
| C15ORF65 | CCDC90B | POLRMT | GOLGA3 | CNOT1 | RNF128 | TNN |
| CA12 | CCKBR | PPAN-P2RY11 | GPD1 | CNTNAP4 | RP2 | TNNI3K |
| CAPN3 | CCND1 | PPP1R13L | GRIN2B | COG4 | RPA4 | TNNT2 |
| CASC4 | CCS | PRDX2 | GRIP1 | COG7 | RPL10 | TNR |
| CATSPER2 | CD151 | PRKACA | GUCY2C | COG8 | RPL36A-HNRNPH2 | TOE1 |
| CCNDBP1 | CD3D | PRKCG | GYS2 | COQ7 | RPS4X | TOMM40L |
| CCPG1 | CD3E | PRKCSH | HAL | COQ9 | RPS6KA3 | TOR1AIP1 |
| CDAN1 | CD3G | PRKD2 | HCAR1 | CORO1A | RRAGB | TP53BP2 |
| CELF6 | CD44 | PRODH2 | HNF1A | COX4I1 | RS1 | TP73 |
| CEMIP | CD5 | PRPF31 | HNRNPA1 | COX6A2 | S100G | TPM3 |
| CEP152 | CD59 | PRR19 | HOXC11 | CPPED1 | SAGE1 | TPR |
| CERS3 | CD81 | PRX | HOXC12 | CREBBP | SAT1 | TRIM11 |
| CHD2 | CD82 | PSENEN | HOXC13 | CRYM | SATL1 | TRIM17 |
| CHRNA3 | CDON | PSG1 | HOXC13-AS | CSNK2A2 | 6-Sep | TRIM33 |
| CHRNB4 | CEP164 | PSG2 | HPD | CTCF | SERPINA7 | TRIM63 |
| CHST14 | CEP57 | PSG7 | HSP90B1 | CTU2 | SH2D1A | TRIT1 |
| CIB2 | CHEK1 | PSG8 | HSPB8 | CYBA | SHROOM4 | TROVE2 |
| CILP | CHRM1 | PSPN | HVCN1 | CYLD | SLC10A3 | TSEN15 |
| CLN6 | CHST1 | PTGIR | IAPP | DCTN5 | SLC16A2 | TSHB |
| CLPX | CLCF1 | PVR | IFNG | DHODH | SLC25A14 | TSNAX |
| COPS2 | CLMP | PVRL2 | IGF1 | DHX38 | SLC25A43 | TSNAX-DISC1 |
| COX5A | CLNS1A | RAB4B-EGLN2 | IKBIP | DNAAF1 | SLC25A5 | TSSK3 |
| CSNK1G1 | CLP1 | RAX2 | IQSEC3 | DNASE1 | SLC25A5-AS1 | TTC4 |
| CTSH | CLPB | RDH8 | IRAK3 | DNASE1L2 | SLC35A2 | TTF2 |
| CTXN2 | CNGA4 | REEP6 | IRAK4 | DOC2A | SLC6A14 | TXNIP |
| CYFIP1 | CNTN5 | RETN | ISCU | DPEP1 | SLC6A8 | UBE2T |
| CYP11A1 | COX8A | RFX2 | ITGA5 | DPEP2 | SLC7A3 | UBIAD1 |
| CYP19A1 | CPT1A | RFXANK | ITGA7 | DUS2 | SLC9A6 | UBQLN4 |
| CYP1A1 | CRY2 | RGS9BP | ITPR2 | E2F4 | SLC9A7 | UBR4 |
| CYP1A2 | CRYAB | RHPN2 | KANSL2 | EARS2 | SMARCA1 | UHMK1 |
| DLL4 | CSNK2A3 | RINL | KCNA1 | ECI1 | SMC1A | UQCRH |
| DMXL2 | CSRP3 | RNASEH2A | KCNA5 | EEF2K | SMPX | UROD |
| DNAJA4 | CST6 | RPL36 | KCNA6 | EME2 | SMS | USF1 |
| DNAJC17 | CTNND1 | RPS11 | KCNH3 | EMP2 | SOX3 | USH2A |
| DUOX1 | CTR9 | RPS15 | KCNJ8 | ERCC4 | SPANXN5 | USP1 |
| DUOXA1 | CTSC | RPS19 | KCNMB4 | ERI2 | SPRY3 | USP24 |
| DUOXA2 | CTSD | RPS28 | KDM2B | FA2H | SRPK3 | USP48 |
| DYX1C1 | CTSF | RPS5 | KDM5A | FAM86A | SRPX | UTS2 |
| DYX1C1-CCPG1 | CUL5 | RRAS | KERA | FANCA | SRPX2 | VANGL1 |
| EDC3 | CWF19L2 | RTN2 | KIAA1033 | FBXL19 | SSR4 | VANGL2 |
| EIF2AK4 | CYP2R1 | RUVBL2 | KIF21A | FBXO31 | SSX1 | VAV3 |
| EMC4 | DCDC5 | S1PR2 | KIF5A | FOXC2 | SSX7 | VCAM1 |
| EPB42 | DCHS1 | SARS2 | KITLG | FOXF1 | STAG2 | VPS13D |
| ETFA | DCPS | SBK3 | KLRC1 | FOXL1 | STS | WARS2 |
| FAH | DDB1 | SCN1B | KLRC4-KLRK1 | FTO | SYN1 | WDR26 |
| FAM63B | DDB2 | SDHAF1 | KLRK1 | FUS | SYP | WDR64 |
| FAN1 | DDX25 | SEMA6B | KMT2D | GALNS | SYTL5 | WDR65 |
| FANCI | DEAF1 | SERTAD1 | KRAS | GAN | TAF7L | WNT3A |
| FBN1 | DENND5A | SH3GL1 | KRT1 | GAS8 | TAF9B | WNT4 |
| FEM1B | DGAT2 | SHANK1 | KRT18 | GCSH | TAZ | XPR1 |
| FES | DGKZ | SHKBP1 | KRT2 | GFER | TBL1X | YARS |
| FMN1 | DHCR7 | SIGLEC12 | KRT3 | GLG1 | TBX22 | YTHDF2 |
| FRMD5 | DKK3 | SIPA1L3 | KRT4 | GLIS2 | TENM1 | YY1AP1 |
| FURIN | DLAT | SIRT6 | KRT5 | GNAO1 | TEX13B | ZBTB18 |
| GABRA5 | DLG2 | SIX5 | KRT6A | GNPTG | TFE3 | ZBTB40 |
| GABRB3 | DNAJB13 | SLC1A5 | KRT6B | GP2 | THOC2 | ZBTB41 |
| GABRG3 | DPAGT1 | SLC25A23 | KRT6C | GPR139 | TIMM8A | ZFP69 |
| GALK2 | DPP3 | SLC25A41 | KRT71 | GPT2 | TIMP1 | ZMPSTE24 |
| GATM | DRD2 | SLC25A42 | KRT74 | GRIN2A | TLR7 | ZMYM6NB |
| GCOM1 | DRD4 | SLC27A1 | KRT75 | GSE1 | TLR8 | ZNF326 |
| GJD2 | DSCAML1 | SLC27A5 | KRT8 | GSPT1 | TMEM187 | ZNF644 |
| GLDN | DYNC2H1 | SLC44A2 | KRT82 | GTF3C1 | TRAPPC2 | ZNF683 |
| GNB5 | EFEMP2 | SLC5A5 | KRT83 | HAGH | TREX2 | ZNF687 |
| GREM1 | ELP4 | SLC7A10 | KRT85 | HBA1 | TRPC5 | ZNHIT6 |
| HCN4 | EPS8L2 | SLC7A9 | KSR2 | HBM | TSPAN7 | ZP4 |
| HDC | ESAM | SMARCA4 | LDHB | HBQ1 | TSPYL2 | DGCR5 |
| HERC1 | ESRRA | SMG9 | LEMD3 | HBZ | TSR2 | FLG |
| HERC2 | ETS1 | SPC24 | LGR5 | HMOX2 | UBA1 | PDZD7 |
| HEXA | EXPH5 | SPINT2 | LOC101593348 | HSD11B2 | UBE2A | ANKLE2 |
| HIGD2B | EXT2 | STK11 | LOC101927318 | HSD17B2 | UBE2NL | ZNF454 |
| HYKK | F2 | STXBP2 | LRP1 | HSD3B7 | UBQLN2 | TTC28 |
| IDH2 | FADD | SULT2A1 | LRP6 | HSF4 | UPF3B | PCDH11X |
| IGF1R | FADS1 | SULT2B1 | LRRC10 | IFT140 | USP11 | PCDH15 |
| IL16 | FADS2 | SUPT5H | LRRIQ1 | IGFALS | USP26 | RYR1 |
| INO80 | FAM111A | SYCE2 | LRRK2 | IL21R | USP27X | ALMS1 |
| IPW | FAM111B | SYNE4 | LTBR | IL4R | USP9X | REL |
| IQGAP1 | FANCF | TBCB | LUM | IQCK | VAMP7 | MAP6 |
| IREB2 | FAR1 | TBXA2R | LYZ | IRF8 | VGLL1 | MXRA5 |
| ITGA11 | FDXACB1 | TCF3 | MANSC1 | IRX5 | VMA21 | NAV1 |
| IVD | FEN1 | TECR | MARS | ITGAM | VSIG4 | TCF7L2 |
| JMJD7 | FERMT3 | TGFB1 | MBD6 | JPH3 | WAS | MYO5A |
| JMJD7-PLA2G4B | FEZ1 | TICAM1 | MDM1 | KARS | WDR13 | CACNA2D2 |
| KBTBD13 | FGF3 | TIMM44 | MDM2 | KATNB1 | WDR45 | EBF4 |
| KIF23 | FIBIN | TIMM50 | MED13L | KCTD13 | WNK3 | KMT2B |
| KIF7 | FIBP | TLE6 | MFAP5 | KCTD19 | WWC3 | TMEM47 |
| KLHL25 | FLI1 | TMEM91 | MGAT4C | KIAA0430 | XG | XIST |
| LACTB | FLRT1 | TNFSF14 | MGP | KIAA0513 | XIAP | COL6A6 |
| LDHAL6B | FNBP4 | TNNI3 | MGST1 | KIF22 | XK | MSTO2P |
| LINS1 | FOLH1 | TNNT1 | MIP | LAT | XPNPEP2 | EP400 |
| LIPC | FOLR1 | TNPO2 | MMAB | LCAT | YY2 | CLNK |
| LOXL1 | FOXRED1 | TOMM40 | MMP19 | LITAF | ZBTB33 | GDF1 |
| LRRC28 | FSHB | TPM4 | MRPL42 | LMF1 | ZC3H12B | MBNL1 |
| LRRK1 | FTH1 | TRMT1 | MRPL51 | LOC100289092 | ZC4H2 | TBX1 |
| LTK | FXYD2 | TRPM4 | MRPS35 | LRRC29 | ZCCHC12 | FBLN1 |
| LYSMD4 | FXYD6 | TSEN34 | MSRB3 | LUC7L | ZCCHC13 | AGK |
| MAGEL2 | FXYD6-FXYD2 | TSHZ3 | MVK | MAPK3 | ZCCHC16 | IGF2R |
| MAP2K1 | FZD4 | TSKS | MYBPC1 | MC1R | ZDHHC15 | NTNG1 |
| MAPKBP1 | GAB2 | TUBB4A | MYF5 | METTL22 | ZDHHC9 | DNAH2 |
| MCTP2 | GAL | TYK2 | MYF6 | MGRN1 | ZIC3 | NAA35 |
| MEF2A | GAL3ST3 | TYROBP | MYL2 | MKL2 | ZMYM3 | ADCY1 |
| MEGF11 | GALNT18 | UBA2 | MYO1A | MLYCD | ZNF157 | TAF1 |
| MEIS2 | GANAB | UNC13A | NAV3 | MMP2 | ZNF41 | CASZ1 |
| MESDC2 | GDPD5 | UQCR11 | NCAPD2 | MPG | ZNF711 | CRLF1 |
| MESP1 | GIF | UQCRFS1 | NCOR2 | MRPL28 | ZNF75D | NFS1 |
| MFGE8 | GLYAT | VAV1 | NDUFA12 | MRPS34 | ZNF81 | IRS2 |
| MGA | GNG3 | WDR62 | NECAP1 | MT1A | ZRSR2 | ATRN |
| MIR184 | GPR152 | WDR87 | NOS1 | MT1X | ACSL6 | EVC |
| MKRN3 | GRIK4 | WDR88 | NR1H4 | MT2A | ADAM19 | SHANK3 |
| MNS1 | GRM5 | WIZ | NR4A1 | MT3 | ADAMTS16 | SZT2 |
| MPI | GSTP1 | XRCC1 | NTF3 | MTSS1L | ADAMTS19 | TTN |
| MRPL46 | GTF2H1 | ZBTB45 | NUAK1 | MVD | ADAMTS6 | CERS1 |
| MRPS11 | GYLTL1B | ZFP14 | NUP107 | MYH11 | ADGRV1 | HOMER2 |
| MTFMT | H19 | ZFP30 | NUP37 | MYLPF | ADRB2 | KREMEN1 |
| MTHFS | HBB | ZFP36 | OAS1 | NAGPA | AFF4 | ANTXR2 |
| MYEF2 | HBD | ZNF175 | OAS2 | NDE1 | AGGF1 | DTX1 |
| MYO1E | HBE1 | ZNF224 | OAS3 | NDRG4 | AGXT2 | 7-Sep |
| MYO5C | HBG2 | ZNF331 | OLR1 | NDUFAB1 | AHRR | NHS |
| MYO9A | HEPACAM | ZNF350 | ORAI1 | NDUFB10 | ALDH7A1 | RAB3GAP1 |
| NDN | HEPN1 | ZNF419 | OTOGL | NFAT5 | AMACR | SOX1 |
| NDNL2 | HMBS | ZNF420 | P2RX2 | NFATC3 | ANKH | KMT2E |
| NDUFAF1 | HNRNPUL2-BSCL2 | ZNF426 | P2RX4 | NIP7 | ANKRD31 | MAGI1 |
| NEDD4 | HPS5 | ZNF433 | P2RX7 | NLRC5 | AP3B1 | LGALS3 |
| NEIL1 | HRAS | ZNF45 | PAH | NOD2 | APBB3 | ABCC5 |
| NEO1 | HSPA8 | ZNF480 | PAWR | NOL3 | APC | GRIK5 |
| NIPA1 | HTR3A | ZNF490 | PDE3A | NPRL3 | ARHGAP26 | COL15A1 |
| NIPA2 | HTR3B | ZNF507 | PDE6H | NQO1 | ARHGEF28 | VCP |
| NMB | HYLS1 | ZNF526 | PEX5 | NTHL1 | ARSB | MLLT1 |
| NOP10 | IFITM3 | ZNF536 | PFKM | ORC6 | ARSI | SCARF2 |
| NPAP1 | IFITM5 | ZNF543 | PGAM5 | OSGIN1 | ATG12 | PWRN1 |
| NPTN | IGF2 | ZNF551 | PHB2 | PALB2 | B4GALT7 | SLC12A5 |
| NR2E3 | IGF2-AS | ZNF582 | PIK3C2G | PAM16 | BDP1 | CHRNA5 |
| NR2F2 | IGHMBP2 | ZNF607 | PKP2 | PARD6A | BHMT | ZNF292 |
| NTRK3 | IGSF22 | ZNF610 | PLCZ1 | PARN | BHMT2 | HNRNPA1P10-CHR19 |
| OCA2 | IL10RA | ZNF627 | PLEKHG7 | PDF | BOD1 | DOCK9 |
| OR4M2 | IL18 | ZNF77 | PMEL | PDP2 | C1QTNF3-AMACR | KIF19 |
| PAK6 | ILK | ZNF780B | POC1B | PDPR | C5ORF42 | PTK2 |
| PDIA3 | INCENP | ZNF813 | POLE | PHKB | C5ORF66 | MFI2 |
| PEX11A | INPPL1 | ZNF829 | POLR3B | PHKG2 | C6 | CELSR1 |
| PGBD4 | INS | ZNF844 | PPP1R1A | PHLPP2 | C7 | LAMA5 |
| PIAS1 | INTS5 | A4GALT | PRB1 | PIEZO1 | C9 | PAPPA |
| PIF1 | IRF7 | ACO2 | PRB3 | PIGQ | CAMK2A | CHM |
| PIGB | JAM3 | ADORA2A | PRB4 | PLCG2 | CAMK4 | NSD1 |
| PKM | KAT5 | ADRBK2 | PRICKLE1 | PLEKHG4 | CARTPT | TPRN |
| PLIN1 | KBTBD4 | ADSL | PRPH | PLK1 | CAST | FCER1G |
| PML | KCNA4 | ALG12 | PTHLH | PMFBP1 | CATSPER3 | APC2 |
| POLG | KCNC1 | APOBEC3B | PTPN11 | PMM2 | CCDC127 | ZSWIM6 |
| POLR2M | KCNE3 | APOBEC3G | PTPN6 | PPL | CCDC152 | MIAT |
| PPIB | KCNJ1 | APOBEC3H | PTPRB | PRKCB | CCNO | NOTCH2 |
| PRTG | KCNJ11 | APOL1 | PTPRO | PRM1 | CCT5 | KIAA0556 |
| PSMA4 | KCNJ5 | APOL2 | PTPRR | PRM2 | CD14 | SMG1 |
| PSTPIP1 | KCNQ1 | APOL3 | PUS1 | PRM3 | CD74 | CASC5 |
| PWAR1 | KIAA1377 | APOL4 | PXMP2 | PRMT7 | CDH12 | ABCG1 |
| PWARSN | KIF18A | APOL5 | PXN | PRRT2 | CDH18 | FAT3 |
| PYGO1 | KIRREL3 | ARSA | PYROXD1 | PRSS22 | CDH6 | SETD2 |
| RAB27A | KLC2 | ARVCF | PZP | PRSS8 | CDK7 | SLC39A8 |
| RASGRP1 | KMT2A | ATP6V1E1 | RAD52 | PSMD7 | CDKL3 | HLCS |
| RGMA | LDHA | ATXN10 | RDH5 | PYCARD | CDO1 | ASH1L |
| RLBP1 | LGALS12 | BCR | RECQL | RABEP2 | CDX1 | C6ORF132 |
| RORA | LGR4 | BRD1 | RHNO1 | RBBP6 | CEP120 | PVT1 |
| RTF1 | LMO2 | C22ORF39 | RNFT2 | RBFOX1 | CHD1 | TKT |
| RYR3 | LRFN4 | CABIN1 | RPL6 | RHBDF1 | CHSY3 | HYDIN |
| SCAPER | LRP4 | CACNA1I | RPS26 | RLTPR | CKS1B-CHR5 | ZMYM6 |
| SCG3 | LRP5 | CACNG2 | RPSAP52 | ROGDI | CLPTM1L | CTA-373H7.7 |
| SEMA6D | LRRC10B | CBY1 | RSRC2 | RPS2 | CMYA5 | CTA-373H7.7 |
| SEMA7A | LRRC56 | CCT8L2 | SART3 | RSPRY1 | COL4A3BP | MAGT1 |
| SIN3A | LRTOMT | CDC45 | SBNO1 | SALL1 | COX7C | CHSY1 |
| SLC12A1 | LTBP3 | CECR1 | SCARB1 | SCNN1B | CPLX2 | DCDC1 |
| SLC12A6 | MADD | CECR2 | SCN8A | SCNN1G | CSF1R | CAMKMT |
| SLC24A1 | MAML2 | CERK | SCNN1A | 12-Sep | CSF2 | CSF2RA |
| SLC24A5 | MAP4K2 | CHCHD10 | SDR9C7 | SETD1A | CSNK1G3 | LEPR |
| SLC28A1 | MAPK8IP1 | CHKB | SELPLG | SEZ6L2 | CTNNA1 | DISC2 |
| SLC28A2 | MDK | CHKB-CPT1B | SENP1 | SH2B1 | CTNND2 | CYS1 |
| SLCO3A1 | MED17 | CLTCL1 | SETD1B | SLC12A3 | DAB2 | ZNF365 |
| SMAD3 | MEN1 | COMT | SETD8 | SLC12A4 | DDX41 | DENR |
| SMAD6 | MFRP | CPT1B | SH2B3 | SLC38A8 | DHFR | FOXF2 |
| SNAPC5 | MICALCL | CRELD2 | SLC11A2 | SLC5A11 | DIAPH1 | SARDH |
| SNORD115-1 | MMP1 | CRKL | SLC17A8 | SLC5A2 | DMGDH | MTHFD1L |
| SNORD116-1 | MMP10 | CRYBA4 | SLC25A3 | SLC6A2 | DMXL1 | PTPRJ |
| SNORD116-10 | MMP12 | CRYBB1 | SLC26A10 | SLC7A5 | DNAH5 | UIMC1 |
| SNRPN | MMP20 | CRYBB2 | SLC2A3 | SLC7A6 | DNAJC21 | RABGAP1L |
| SNUPN | MMP3 | CRYBB3 | SLC39A5 | SLC7A6OS | DND1 | KANK1 |
| SNURF | MMP7 | CSF2RB | SLC48A1 | SLX4 | DOCK2 | THADA |
| SNX1 | MMP8 | CSNK1E | SLC6A12 | SMPD3 | DRD1 | DGKI |
| SNX22 | MOGAT2 | CYB5R3 | SLC6A13 | SNAI3 | DROSHA | ADAMTS2 |
| SPATA5L1 | MPEG1 | CYP2D6 | SLC8B1 | SNTB2 | EFNA5 | PKD1 |
| SPG11 | MRE11A | CYP2D7P1 | SLCO1A2 | SOCS1 | EGR1 | ADAMTSL3 |
| SPG21 | MRPL11 | DEPDC5 | SLCO1B1 | SOX8 | EIF4E1B | CACNA1B |
| SPRED1 | MRPL16 | DGCR14 | SLCO1B3 | SPATA33 | EPB41L4A | CCDC66 |
| SPTBN5 | MRPL17 | DGCR2 | SLCO1B7 | SPG7 | ERAP1 | CCDC30 |
| ST8SIA2 | MRPL21 | DGCR6 | SLCO1C1 | SRCAP | ERAP2 | IL23R |
| STARD9 | MRPL23 | DGCR8 | SMARCC2 | SRL | ERBB2IP | ZNF451 |
| STRA6 | MRPL49 | DMC1 | SMARCD1 | SRRM2 | ERCC8 | ASTN2 |
| SV2B | MS4A1 | DNAJB7 | SMUG1 | SSTR5 | F12 | WDPCP |
| SYNM | MS4A10 | DNAL4 | SNORA34 | ST3GAL2 | F2R | CHAF1A |
| TBC1D2B | MS4A12 | DRG1 | SNORD56-CHR12 | STUB1 | F2RL1 | NAV2 |
| TCF12 | MS4A2 | EIF4ENIF1 | SOAT2 | STX1B | FABP6 | ZNF559 |
| TGM5 | MS4A3 | EP300 | SOCS2 | SULT1A1 | FAF2 | DUOX2 |
| THBS1 | MS4A6A | EWSR1 | SOX5 | SYT17 | FAM134B | KDM7A |
| TLN2 | MS4A6E | FBXO7 | SP1 | TAF1C | FAM81B | VWF |
| TMC3 | MS4A7 | GAL3ST1 | SP7 | TAT | FASTKD3 | IL1R1 |
| TP53BP1 | MTA2 | GNB1L | SPSB2 | TBC1D10B | FAT2 | FCGR1A |
| TPM1 | MTCH2 | GP1BB | SRGAP1 | TBC1D24 | FAXDC2 | EPHB2 |
| TRIP4 | MTMR2 | GSTT1 | SSH1 | TBX6 | FBN2 | KIR2DL1 |
| TRPM1 | MTNR1B | HIRA | SSPN | TEKT5 | FBXL17 | PTPRS |
| TRPM7 | MUC15 | HMOX1 | ST8SIA1 | TELO2 | FBXO38 | EPHA1 |
| TTBK2 | MUC2 | HPS4 | STAB2 | TERF2IP | FBXW11 | RFNG |
| TUBGCP4 | MUC5B | IFT27 | STAC3 | THOC6 | FER | STOX1 |
| TUBGCP5 | MUC6 | IGLL1 | STAT2 | TIGD7 | FGF1 | FAM160B2 |
| TYRO3 | MUS81 | IL17RA | STAT6 | TK2 | FGF10 | MUC4 |
| UACA | MYBPC3 | IL17REL | STK38L | TMEM114 | FGFR4 | SPECC1L-ADORA2A |
| UBE3A | MYO7A | KCTD17 | SUOX | TMEM219 | FLT4 | KDM5D-CHRY |
| UBR1 | MYOD1 | LARGE | SYCP3 | TMEM231 | FNIP1 | COL5A1 |
| UNC13C | NARS2 | LGALS1 | SYT1 | TMEM8A | FOXI1 | TNFRSF13C |
| USP3 | NAT10 | LGALS2 | TAC3 | TNRC6A | FST | NPC1L1 |
| USP8 | NCAM1 | LIF | TAS2R19 | TOX3 | FTMT | PPP2R1A |
| VIMP | NCAPD3 | LOC284889 | TAS2R43 | TRADD | FYB | SORBS1 |
| VPS13C | NDUFC2 | LZTR1 | TAS2R46 | TRAF7 | GABRA1 | MIPEP |
| VPS33B | NDUFC2-KCTD14 | MAPK1 | TAS2R50 | TRAP1 | GABRA6 | KCTD7 |
| VPS39 | NDUFS3 | MCAT | TAS2R9 | TRIM72 | GABRB2 | WT1-AS |
| WDR73 | NDUFS8 | MCHR1 | TBC1D30 | TSC2 | GABRP | MTO1 |
| WDR93 | NDUFV1 | MCM5 | TBK1 | TUBB3 | GDF9 | CLN3 |
| ZNF592 | NELL1 | MGAT3 | TBX3 | TUFM | GDNF | DEF6 |
| ZNF774 | NLRP10 | MICAL3 | TBX5 | UBE2I | GFM2 | DNM1 |
| ZSCAN29 | NLRP14 | MIF | TCP11L2 | UBN1 | GFPT2 | ARX |
| AASS | NLRX1 | MKL1 | TCTN2 | UMOD | GHR | CGB |
| ABCA13 | NNMT | MLC1 | TDG | UNKL | GLRA1 | C1ORF145 |
| ABCB1 | NPAT | MN1 | TENC1 | UQCRC2 | GM2A | RASAL1 |
| ABCB4 | NR1H3 | MORC2 | TFCP2 | USB1 | GPRIN1 | COL4A6 |
| ABCB5 | NRGN | MPST | TIMELESS | USP10 | GPX3 | KDM5B |
| ABCB8 | NRXN2 | MRPL40 | TMEM132D | USP7 | GRIA1 | SH3BP2 |
| ACHE | NUCB2 | MYH9 | TMEM5 | VAC14 | GRM6 | TTC7A |
| ACTB | NUMA1 | MYO18B | TMPO | VPS35 | GRXCR2 | MAGI2 |
| ACTL6B | NUP98 | NAGA | TMPO-AS1 | VPS4A | HAND1 | ARMC4 |
| ACTR3C | OPCML | NCAPH2 | TMTC3 | WWOX | HAPLN1 | SIGLEC16 |
| ADAM22 | OR10V1 | NCF4 | TPH2 | WWP2 | HARS | MAP3K15 |
| AEBP1 | OR51G1 | NDUFA6 | TPI1 | XYLT1 | HARS2 | MESP2 |
| AGMO | OR52H1 | NEFH | TROAP | ZFHX3 | HAVCR1 | KIAA0586 |
| AHR | OR52N4 | NF2 | TRPV4 | ZFP90 | HBEGF | EFCAB5 |
| AIMP2 | OR8H1 | NIPSNAP1 | TSFM | ZNF213 | HCN1 | BDNF-AS |
| AKAP9 | OR8K3 | PDGFB | TSPAN11 | ZNF276 | HDAC3 | TCTN1 |
| AKR1B1 | OSBPL5 | PEX26 | TUBA1A | ZNF423 | HEXB | PMS1 |
| AKR1D1 | OTOG | PI4KA | TULP3 | ZNF469 | HIGD2A | COQ2 |
| AMZ1 | OVCH2 | PICK1 | U4ATAC-CHR12 | ZNF668 | HINT1 | SIGLEC14 |
| ANLN | P2RY2 | PIWIL3 | UBE3B | ZNRF1 | HMGCR | CASP2 |
| AOAH | PACS1 | PLA2G6 | UNG | AANAT | HMMR | ANKRD26 |
| AOC1 | PAFAH1B2 | PNPLA3 | USP15 | AATF | HNRNPA0 | USP6NL |
| AP1S1 | PAMR1 | POLR3H | USP30 | ABCA5 | HNRNPH1 | KAT2B |
| AP4M1 | PANX1 | PPARA | USP44 | ABCA8 | HOMER1 | ANAPC10 |
| AP5Z1 | PAX6 | PRODH | VAMP1 | ABCC3 | HRH2 | FAM120A |
| AQP1 | PC | RAC2 | VDR | ACACA | HSPA9 | ACAD10 |
| ASB10 | PDE3B | RANGAP1 | VEZT | ACADVL | HSPB3 | EPHA8 |
| ASIC3 | PDHX | RBFOX2 | WDR66 | ACE | HTR1A | C5 |
| ASL | PEX16 | RIBC2 | WIF1 | ACLY | IK | MPHOSPH8 |
| ASNS | PGAP2 | RTN4R | WNK1 | ACOX1 | IL12B | CEP97 |
| ATG9B | PGR | SBF1 | WNT1 | ACTG1 | IL13 | POM121C |
| ATP5J2-PTCD1 | PHLDA2 | SCO2 | WNT10B | ADPRM | IL3 | IL18R1 |
| ATP6V0A4 | PHLDB1 | 5-Sep | WNT5B | AIPL1 | IL31RA | TEX11 |
| AUTS2 | PHOX2A | SEPT5-GP1BB | XPOT | AKAP10 | IL4 | SPATA21 |
| AZGP1 | PICALM | SERPIND1 | YARS2 | ALDH3A1 | IL5 | MLLT10 |
| BAZ1B | PIK3C2A | SEZ6L | ZC3H10 | ALDH3A2 | IL6ST | RPGR |
| BBS9 | PITPNM1 | SGSM3 | ZCCHC8 | ALOX12 | IL7R | ZNF33A |
| BLVRA | PIWIL4 | SLC16A8 | ZDHHC17 | ALOX12B | IL9 | CYP4Z1 |
| BMPER | PKP3 | SLC25A1 | ABCA1 | ALOX15 | IQGAP2 | FRMD4A |
| BPGM | PNPLA2 | SLC25A17 | ABCA2 | ALOXE3 | IRF1 | GGT5 |
| BRAF | POLD3 | SLC5A1 | ABL1 | AOC2 | IRGM | HK1 |
| BRAT1 | PPP2R1B | SMARCB1 | ABO | APOH | IRX4 | AGBL2 |
| C1GALT1 | PPP2R5B | SMC1B | ACO1 | ARHGDIA | ISL1 | NIPAL3 |
| C7ORF43 | PPP6R3 | SNAP29 | ACTL7B | ARHGEF15 | ITGA1 | GRM7 |
| C7ORF55 | PRCP | SNORD56-CHR22 | ADAMTS13 | ARSG | ITGA2 | WDR72 |
| C7ORF60 | PRDM10 | SOX10 | ADAMTSL2 | ASGR1 | ITK | KIF20B |
| CACNA2D1 | PRMT3 | SPECC1L | AGPAT2 | ASPA | KCNMB1 | ATAD3A |
| CADPS2 | PRSS23 | SREBF2 | AGTPBP1 | ASPSCR1 | KCNN2 | NAA15 |
| CALCR | PTGDR2 | SULT4A1 | AK1 | ATAD5 | KDM3B | AKR1C2 |
| CALU | PTH | SUN2 | AK8 | ATP2A3 | KIF2A | BRD2 |
| CAMK2B | PTPRCAP | SYN3 | AKAP2 | ATP5G1 | KLHL3 | TPCN1 |
| CARD11 | PTS | SYNGR1 | ALAD | ATP6V0A1 | LARS | CLCN3 |
| CAV1 | PUS3 | TANGO2 | ALDH1A1 | ATPAF2 | LECT2 | TAPBP |
| CBX3 | PVRL1 | TCF20 | ALDH1B1 | AURKB | LIFR | KIF4A |
| CCDC136 | PYGM | TCN2 | ALDOB | AXIN2 | LMNB1 | EGFR-AS1 |
| CCL26 | QSER1 | TIMP3 | ALG2 | B4GALNT2 | LOC100130744 | STYXL1 |
| CCM2 | RAD9A | TMPRSS6 | ANKRD18A | B9D1 | LOC257396 | RPGRIP1L |
| CD36 | RAG1 | TNRC6B | ANKS6 | BAIAP2 | LOX | ABCA10 |
| CDCA7L | RAG2 | TRIOBP | ANXA1 | BLMH | LTC4S | TFAP2A-AS1 |
| CDK13 | RAPSN | TRMU | APTX | BPTF | LYRM7 | ADIPOQ-AS1 |
| CDK5 | RASGRP2 | TSPO | AQP3 | BRCA1 | LYSMD3 | ALG8 |
| CDK6 | RBM14 | TSSK2 | AQP7 | BRIP1 | MAML1 | CTDP1 |
| CEP41 | RBM14-RBM4 | TST | ARID3C | BZRAP1 | MAN2A1 | ARHGEF6 |
| CFTR | RBM7 | TTLL1 | ASPN | C17ORF107 | MAP3K1 | HSD17B4 |
| CHCHD2 | RBMXL2 | TUBA8 | ASS1 | C17ORF66 | MAPK9 | SLC3A1 |
| CHPF2 | RDX | TUBGCP6 | AUH | C1QTNF1 | MARVELD2 | SH3PXD2A |
| CHRM2 | RELA | TXN2 | B4GALT1 | CA10 | MAST4 | RBL2 |
| CHST12 | RELT | TXNRD2 | BAAT | CA4 | MATR3 | PRDM12 |
| CLCN1 | RHOG | TYMP | BARX1 | CACNA1G | MCC | LAMB4 |
| CLIP2 | RIC3 | UFD1L | BICD2 | CACNG1 | MCCC2 | CHL1 |
| CNOT4 | RNASEH2C | UPB1 | BNC2 | CACNG4 | MCIDAS | MEFV |
| CNTNAP2 | ROBO3 | UPK3A | BRD3 | CAMKK1 | MEF2C | FRRS1L |
| COG5 | ROM1 | UQCR10 | C8G | CANT1 | MEGF10 | PHC1 |
| COL1A2 | RPS3 | VPREB1 | C9ORF114 | CARD14 | MGAT1 | CCDC114 |
| COX19 | RPS6KB2 | XBP1 | C9ORF117 | CBX2 | MGAT4B | GRIN2D |
| CPA1 | RRAS2 | XRCC6 | C9ORF139 | CBX4 | MOCS2 | GRIK2 |
| CPA4 | RRM1 | ZDHHC8 | C9ORF172 | CBX8 | MRPL22 | PDE4DIP |
| CPVL | RRP8 | MT-TC | C9ORF173 | CCDC103 | MRPL36 | MCF2L2 |
| CREB5 | SAA1 | MT-TF | C9ORF37 | CCDC40 | MRPS27 | CBFA2T2 |
| CTTNBP2 | SAA4 | MT-TK | C9ORF66 | CCDC47 | MRPS30 | ABCC4 |
| CUX1 | SART1 | AARS2 | C9ORF72 | CCDC57 | MRPS36 | CACNA1C-AS1 |
| CYCS | SBF2 | ABCC10 | CARD9 | CCL11 | MSH3 | ARHGAP9 |
| CYP2W1 | SC5D | ACAT2 | CCDC107 | CCL13 | MSX2 | ANKS3 |
| CYP3A4 | SCGB1A1 | ADGRF1 | CD72 | CCL2 | MTMR12 | NEK2 |
| CYP3A5 | SCGB1D2 | ADGRF4 | CDK20 | CCL3 | MTRR | ACAD9 |
| CYP3A7 | SCN2B | ADGRG6 | CDK5RAP2 | CCL5 | MYO10 | C2CD3 |
| CYP3A7-CYP3AP1 | SCN3B | ADTRP | CDK9 | CCL7 | MYOT | TOLLIP |
| CYP51A1 | SCN4B | AGER | CDKN2A | CCR7 | NADK2 | VPS33A |
| DAGLB | SCT | AHI1 | CDKN2B | CD300LF | NDST1 | PCSK7 |
| DBNL | SCUBE2 | AIF1 | CEP78 | CD79B | NDUFA2 | TNFRSF11A |
| DDC | SCYL1 | AK9 | CER1 | CDC27 | NDUFAF2 | LOC101928882 |
| DFNA5 | SDHAF2 | AKAP12 | CIZ1 | CDC6 | NDUFS4 | USP18 |
| DGKB | SERPING1 | ALDH5A1 | COL27A1 | CDK12 | NDUFS6 | VPS13A-AS1 |
| DLD | SERPINH1 | ALDH8A1 | COQ4 | CDK5R1 | NEUROG1 | CFHR3 |
| DLX5 | SF1 | AMD1 | CRAT | CDK5RAP3 | NHP2 | TCF4 |
| DLX6 | SHANK2 | ANKRD6 | CRB2 | CHD3 | NIM1K | CSH1 |
| DMTF1 | SIAE | ANKS1A | CREB3 | CHRNB1 | NIPAL4 | KIR2DL4 |
| DNAAF5 | SIGIRR | APOBEC2 | DAPK1 | CHRNE | NIPBL | RABGEF1 |
| DNAH11 | SIK2 | APOM | DBH | CLEC10A | NKX2-5 | MICB |
| DNAJB6 | SIK3 | ARG1 | DBH-AS1 | CLTC | NME5 | VCX3A |
| DNAJC30 | SIPA1 | ARHGAP18 | DDX58 | CNTNAP1 | NNT | HP |
| DOCK4 | SIRT3 | ARID1B | 1-Dec | CNTROB | NPM1 | MTAP |
| DPP6 | SLC1A2 | ASCC3 | DFNB31 | COA3 | NPR3 | A2M-AS1 |
| DUS4L | SLC22A11 | ATG5 | DMRT1 | COASY | NR2F1 | CHFR |
| EEPD1 | SLC22A12 | ATP6V1G2-DDX39B | DMRT2 | COG1 | NR3C1 | NUP93 |
| EGFR | SLC22A18 | ATXN1 | DNAI1 | COL1A1 | NSG2 | ITGB1 |
| EIF3B | SLC22A18AS | B3GAT2 | DNAJB5 | COX10 | NSUN2 | AXDND1 |
| EIF4H | SLC22A6 | BAG6 | DOCK8 | COX11 | NUP155 | BTBD9 |
| ELN | SLC22A8 | BAI3 | DOLK | CRHR1 | OSMR | MTMR1 |
| EN2 | SLC22A9 | BCKDHB | DOLPP1 | CRK | OTULIN | ZFX |
| EPHB4 | SLC25A22 | BCLAF1 | DPM2 | CRYBA1 | OXCT1 | CEL |
| EPHB6 | SLC25A45 | BLOC1S5 | ECM2 | CSHL1 | P4HA2 | ITCH |
| EPO | SLC29A2 | BMP5 | EGFL7 | CSNK1D | PAPD4 | CYP3A43 |
| ETV1 | SLC35C1 | BMP6 | EHMT1 | CTC1 | PAPD7 | PRICKLE2-AS1 |
| EXOC4 | SLC37A4 | BTN1A1 | ELAVL2 | CTNS | PCDH12 | DCTD |
| EZH2 | SLC39A13 | BTN2A1 | ENG | CUEDC1 | PCDHA1 | LEF1 |
| FAM126A | SLC6A5 | BTNL2 | ENHO | CXCL16 | PCDHA10 | MSH2 |
| FAM188B | SLCO2B1 | BVES | ERCC6L2 | CYGB | PCDHA11 | ACER3 |
| FAM20C | SMPD1 | C2 | EXD3 | DBF4B | PCDHA12 | RHD |
| FBXL18 | SMTNL1 | C6ORF136 | EXOSC2 | DCAKD | PCDHA13 | B3GLCT |
| FEZF1 | SNORD56-CHR11 | C6ORF15 | EXOSC3 | DCXR | PCDHA2 | SLC47A1 |
| FKBP14 | SNX19 | C6ORF165 | FAM120AOS | DDX5 | PCDHA3 | VPS45 |
| FLNC | SORL1 | C6ORF165 | FAM166A | DGKE | PCDHA4 | SCLT1 |
| FOXP2 | SOX6 | C6ORF222 | FAM189A2 | DHRS7C | PCDHA5 | SGCE |
| FZD1 | SPA17 | C6ORF47 | FAM205A | DLG4 | PCDHA6 | TSIX |
| FZD9 | SPDYC | CCDC170 | FANCC | DLX3 | PCDHA7 | RNF135 |
| GAL3ST4 | SPI1 | CCHCR1 | FANCG | DLX4 | PCDHA8 | LOC101929680 |
| GALNT11 | SPTBN2 | CCND3 | FBP1 | DNAH9 | PCDHA9 | ACSM3 |
| GALNTL5 | ST14 | CCR6 | FBP2 | DNAI2 | PCDHAC1 | B4GALNT4 |
| GARS | ST3GAL4 | CD109 | FBXO10 | DPH1 | PCDHAC2 | RAN |
| GATAD1 | ST5 | CD164 | FCN1 | DVL2 | PCDHB16 | SHOX |
| GCK | STIM1 | CD2AP | FCN2 | EFCAB13 | PCDHB4 | BHLHA9 |
| GHRHR | STT3A | CDC5L | FGD3 | EFTUD2 | PCDHGA1 | GABRD |
| GIMAP8 | STX3 | CDK19 | FKTN | EIF4A3 | PCDHGA10 | GDF11 |
| GJC3 | SUV420H1 | CDKAL1 | FOCAD | ELAC2 | PCDHGA11 | ADARB1 |
| GLCCI1 | SYT9 | CDKN1A | FOXD4 | EME1 | PCDHGA12 | IFT81 |
| GLI3 | SYVN1 | CDSN | FOXE1 | ENDOV | PCDHGA2 | PTPRQ |
| GNAI1 | TALDO1 | CDYL | FPGS | ENO3 | PCDHGA3 | RFWD2 |
| GNB2 | TBX10 | CENPW | FREM1 | EPX | PCDHGA4 | CD247 |
| GPNMB | TCIRG1 | CEP85L | FRMPD1 | ERBB2 | PCDHGA5 | CFHR1 |
| GPR37 | TCN1 | CFB | FSD1L | ETV4 | PCDHGA6 | NOS3 |
| GPR85 | TEAD1 | CGA | FUT7 | EZH1 | PCDHGA7 | ZNF674 |
| GRB10 | TECTA | CITED2 | FXN | FAM104A | PCDHGA8 | EED |
| GRM3 | TENM4 | CLIC5 | GABBR2 | FAM134C | PCDHGA9 | HIST2H2BF |
| GRM8 | TH | CLPS | GALNT12 | FAM20A | PCDHGB1 | WTAPP1 |
| GSTK1 | TIRAP | CNPY3 | GALT | FASN | PCDHGB2 | NEK4 |
| GTF2IRD1 | TMEM126A | CNR1 | GAS1 | FBXO39 | PCDHGB3 | PODXL |
| GUSB | TMEM126B | COL10A1 | GBA2 | FKBP10 | PCDHGB4 | RBP1 |
| H2AFV | TMEM132A | COL11A2 | GCNT1 | FLCN | PCDHGB5 | IL12RB1 |
| HDAC9 | TMEM135 | COL12A1 | GDA | FN3K | PCDHGB6 | GABRA3 |
| HEPACAM2 | TMEM138 | COL19A1 | GFI1B | FN3KRP | PCDHGB7 | UGT2A1 |
| HGF | TMEM216 | COL21A1 | GLDC | FOXJ1 | PCDHGC3 | BEND2 |
| HIBADH | TMPRSS4 | COL9A1 | GLE1 | FOXN1 | PCDHGC4 | FOXK1 |
| HIP1 | TMPRSS5 | COQ3 | GLIS3 | FSCN2 | PCDHGC5 | ST20-MTHFS |
| HNRNPA2B1 | TNNI2 | COX7A2 | GNA14 | FZD2 | PCSK1 | GBGT1 |
| HOXA1 | TNNT3 | CRISP2 | GNAQ | G6PC | PDE4D | KCNQ1OT1 |
| HOXA10 | TP53AIP1 | CTGF | GNE | G6PC3 | PDE6A | DACH2 |
| HOXA11 | TPCN2 | CUL7 | GNG10 | GAA | PDE8B | KDELC2 |
| HOXA2 | TPH1 | CYB5R4 | GOLGA2 | GALK1 | PDGFRB | FMO3 |
| HOXA3 | TPP1 | CYP39A1 | GRHPR | GAS2L2 | PDLIM4 | HOXA13 |
| HOXA4 | TRAF6 | DAAM2 | GRIN1 | GAST | PDLIM7 | SLC11A1 |
| HOXA9 | TREH | DAXX | GRIN3A | GCGR | PDZD2 | CES4A |
| HSPB1 | TRIM21 | DCBLD1 | GSN | GEMIN4 | PHYKPL | AAR2 |
| HTR5A | TRIM22 | DCDC2 | GSN-AS1 | GFAP | PIK3R1 | TXLNG |
| IFRD1 | TRIM44 | DDAH2 | HAUS6 | GH1 | PITX1 | SYT14 |
| IGFBP1 | TRIM5 | DDO | HNRNPK | GH2 | PLCXD3 | FKBP6 |
| IGFBP3 | TRMT112 | DDR1 | HSD17B3 | GIP | POC5 | DCLRE1C |
| IKZF1 | TRPC6 | DDX39B | HSPA5 | GIT1 | POLK | CTF1 |
| IL6 | TSG101 | DEK | IARS | GJC1 | POU4F3 | CLIC2 |
| IMMP2L | TSSC4 | DHX16 | IFNA10 | GNA13 | PPARGC1B | HENMT1 |
| IMPDH1 | TUB | DLL1 | IFNA17 | GP1BA | PPP2R2B | STK33 |
| ING3 | TUT1 | DNAH8 | IFNA2 | GPATCH8 | PRDM6 | FRA10AC1 |
| INHBA | TYR | DOPEY1 | IFNB1 | GPR179 | PRDM9 | OCLN |
| INMT | U4ATAC-CHR11 | DSE | IFT74 | GPS1 | PRLR | SLC9B1 |
| INMT-FAM188B | UBQLNL | DSP | IKBKAP | GRB2 | PROP1 | POLR2F |
| INSIG1 | UCP2 | DST | IL11RA | GRB7 | PTGER4 | PMS2P3 |
| INTS1 | UCP3 | DTNBP1 | INPP5E | GRN | PURA | AHNAK2 |
| IQCE | UNC93B1 | DXO | INSL6 | GSDMA | PWWP2A | CFLAR |
| IRF5 | UPK2 | E2F3 | INVS | GSDMB | RAD1 | VKORC1 |
| ISPD | UQCC3 | ECT2L | JAK2 | GUCY2D | RAD50 | TNFRSF1A |
| KCND2 | USH1C | EDN1 | KCNT1 | HAP1 | RARS | IL6R |
| KCNH2 | VEGFB | EFHC1 | KCNV2 | HCRT | RASA1 | CHEK2 |
| KEL | VPS11 | EHMT2 | KDM4C | HELZ | REEP2 | WNT9B |
| KIAA1549 | WEE1 | ELOVL2 | KIAA1432 | HES7 | RIOK2 | SLC22A25 |
| KLHL7 | WNT11 | ELOVL4 | KIF24 | HEXDC | ROPN1L | B3GALNT2 |
| KMT2C | WT1 | ELOVL5 | KIF27 | HID1 | RPS14 | RAD51B |
| KPNA7 | YAP1 | ENPP1 | KLF4 | HNF1B | SAR1B | BEAN1 |
| KRIT1 | ZBTB16 | EPB41L2 | KLHL9 | HOXB1 | SCGB3A2 | CLYBL |
| LAMB1 | ZDHHC24 | EPHA7 | LAMC3 | HOXB13 | SDHA | CLUL1 |
| LEP | ZDHHC5 | EPM2A | LCN10 | HOXB6 | SEMA5A | NDUFA5 |
| LFNG | ZFPL1 | ERMARD | LHX3 | HOXB8 | SEPP1 | MMP13 |
| LIMK1 | ZNF143 | ESR1 | LHX6 | HSD17B1 | SETD9 | NXF5 |
| LMBR1 | ZNF202 | EYA4 | LMX1B | IGFBP4 | SGCD | PQBP1 |
| LOC100129427 | ZNF408 | EYS | LOC100507346 | IKZF3 | SH3PXD2B | DPM1 |
| LOC100506136 | ZP1 | EZR | LOC101448202 | INPP5K | SH3TC2 | GABRG2 |
| LRGUK | A4GNT | F13A1 | LPAR1 | ITGA2B | SHROOM1 | MAF |
| LRRC4 | AADAC | FABP7 | LRRC8A | ITGA3 | SIL1 | MNX1 |
| LSMEM1 | AADACL2 | FAM120B | LRSAM1 | ITGAE | SKP2 | DISC1 |
| MACC1 | ABHD14A | FAM65B | MAMDC4 | ITGB3 | SLC12A2 | CD177 |
| MAD1L1 | ABHD14A-ACY1 | FAM8A1 | MAN1B1 | ITGB4 | SLC12A7 | PTCSC3 |
| MCM7 | ABHD5 | FANCE | MAPKAP1 | JUP | SLC1A3 | SUGCT |
| MDH2 | ABI3BP | FARS2 | MIR204 | KANSL1 | SLC22A4 | UBL4A |
| MEST | ACAA1 | FBXL4 | MIR24-1 | KAT2A | SLC22A5 | C4ORF19 |
| MET | ACAD11 | FIG4 | MLLT3 | KCNH6 | SLC23A1 | RPS15A |
| METTL2B | ACOX2 | FILIP1 | MPDZ | KCNJ12 | SLC25A2 | FBLN5 |
| MIOS | ACTL6A | FKBP5 | MRPL41 | KCNJ16 | SLC25A46 | NPEPL1 |
| MIR96 | ACVR2B | FKBPL | MRPL50 | KCNJ2 | SLC26A2 | PRICKLE2-AS3 |
| MLXIPL | ACY1 | FLOT1 | MRPS2 | KDM6B | SLC30A5 | NDUFA9 |
| MMD2 | ADCY5 | FOXC1 | MRRF | KIAA0100 | SLC34A1 | MRPL48 |
| MPLKIP | ADIPOQ | FOXO3 | MURC | KIAA0753 | SLC36A2 | SRGAP2 |
| MPP6 | AGTR1 | FOXP4 | MUSK | KIF1C | SLC45A2 | SAFB2 |
| MRPL32 | AHSG | FRK | NANS | KIF2B | SLC6A18 | XPNPEP3 |
| MRPS17 | ALAS1 | FUCA2 | NCS1 | KLHL10 | SLC6A19 | MCU |
| MRPS24 | ALCAM | GABBR1 | NDOR1 | KRT10 | SLC6A3 | ASCC1 |
| MRPS33 | ALG3 | GABRR1 | NDUFA8 | KRT12 | SLC9A3 | PEX7 |
| MUC17 | ALS2CL | GABRR2 | NDUFB6 | KRT13 | SLCO4C1 | CD55 |
| MUC3A | AMT | GCLC | NFIB | KRT14 | SLCO6A1 | SULT1C2 |
| MYO1G | ANO10 | GCM2 | NINJ1 | KRT15 | SLIT3 | NLK |
| NAMPT | APOD | GCNT2 | NIPSNAP3A | KRT16 | SMAD5 | GXYLT2 |
| NDUFA4 | APPL1 | GFOD1 | NOTCH1 | KRT17 | SMIM3 | TNXB |
| NDUFB2 | ARF4 | GJA1 | NPR2 | KRT20 | SNCB | AP1S3 |
| NME8 | ARHGAP31 | GLO1 | NR4A3 | KRT24 | SPARC | CNGA1 |
| NOBOX | ARL13B | GLP1R | NR5A1 | KRT25 | SPEF2 | ANAPC1 |
| NOD1 | ARL6 | GMDS | NSMF | KRT31 | SPINK1 | PDXK |
| NPSR1 | ARL6IP5 | GMNN | NTNG2 | KRT37 | SPINK5 | BIRC5 |
| NPTX2 | ASTE1 | GNMT | NTRK2 | KRT38 | SPOCK1 | GOSR2 |
| NPY | ATG7 | GOPC | NUP214 | KRT9 | SPRY4 | MRPL10 |
| NRCAM | ATP11B | GPANK1 | OR1B1 | KRTAP1-1 | SQSTM1 | MYB |
| NT5C3A | ATP13A4 | GPRC6A | OR1J1 | KRTAP4-8 | SRA1 | PRDM11 |
| NUB1 | ATP13A5 | GPSM3 | PALM2 | KRTAP9-3 | SREK1 | MOG |
| NUDT1 | ATP2B2 | GPX5 | PALM2-AKAP2 | LHX1 | SRP19 | SDC3 |
| NUP205 | ATP2C1 | GPX6 | PAX5 | LIG3 | ST8SIA4 | EIF4E |
| OGDH | ATP6V1A | GRM1 | PCSK5 | LLGL1 | STK10 | LOC148413 |
| OPN1SW | ATR | GSTA1 | PHF19 | LLGL2 | STK32A | OPN1LW |
| OR2F1 | ATRIP | GSTA2 | PHF2 | LOC100287042 | SYNPO | ANKHD1 |
| OSBPL3 | ATXN7 | GSTA3 | PIGO | LOC100294362 | TAF9 | MMADHC |
| PAX4 | B3GALNT1 | GSTA4 | PIP5K1B | LRRC46 | TCF7 | KRT86 |
| PAXIP1 | B3GNT5 | GSTA5 | PKN3 | MAP2K3 | TCOF1 | BAX |
| PCLO | B4GALT4 | GTF2H4 | PLAA | MAP2K4 | TENM2 | ADRA1A |
| PDGFA | BAP1 | GTF2H5 | PMPCA | MAP3K14 | TERT | TTN-AS1 |
| PDIA4 | BCHE | GTPBP2 | POMT1 | MAPT | TGFBI | SNRK-AS1 |
| PDK4 | BCL6 | GUCA1A | PPAPDC2 | MED13 | THBS4 | NEB |
| PEX1 | BFSP2 | GUCA1B | PPP6C | MEOX1 | THG1L | RAD51 |
| PGAM2 | BOC | HACE1 | PRKACG | METTL23 | TIGD6 | NVL |
| PHKG1 | BRPF1 | HBS1L | PRPF4 | MFAP4 | TLX3 | LOC100132891 |
| PIK3CG | BSN | HCP5 | PRUNE2 | MFSD6L | TMCO6 | RPL15 |
| PKD1L1 | BTD | HCRTR2 | PSAT1 | MGAT5B | TMEM173 | FCGR2C |
| PLOD3 | BTLA | HDAC2 | PSMB7 | MKS1 | TNPO1 | PARK2 |
| PLXNA4 | C3ORF17 | HEY2 | PTCH1 | MLX | TRIO | C14ORF105 |
| PMS2 | CACNA1D | HFE | PTGDS | MPDU1 | TRIP13 | SNHG4 |
| PNPLA8 | CACNA2D3 | HIST1H1E | PTGES2 | MPO | TRPC7 | CALCRL |
| PON1 | CADM2 | HIST1H2AE | PTGS1 | MPP3 | TSLP | CNTNAP3 |
| PON2 | CADPS | HIST1H2BE | PTPN3 | MRC2 | TSPAN17 | PON3 |
| POR | CAMK1 | HIST1H3B | PTPRD | MRPL12 | TTC1 | IGHG1 |
| POT1 | CAMP | HIST1H4B | PTRH1 | MRPL27 | TTC37 | ZNF141 |
| POU6F2 | CASR | HIST1H4I | RABL6 | MRPL38 | U4ATAC-CHR5 | LRP4-AS1 |
| PPIA | CAV3 | HIVEP1 | RAD23B | MRPL45 | UBE2B | CYP21A2 |
| PPP1R17 | CBLB | HIVEP2 | RALGDS | MRPS23 | UQCRQ | RHCE |
| PPP1R3A | CCDC14 | HLA-A | RANBP6 | MRPS7 | VCAN | ACAN |
| PRKAG2 | CCDC174 | HLA-B | RAPGEF1 | MSI2 | VDAC1 | SEPN1 |
| PRKAR1B | CCDC39 | HLA-C | REXO4 | MYADML2 | WDR36 | CRLF2 |
| PRSS1 | CCDC50 | HLA-DMB | RFX3 | MYBBP1A | WDR55 | PACRG |
| PRSS37 | CCK | HLA-DOA | RMI1 | MYH10 | WNT8A | CFHR2 |
| PRSS58 | CCR1 | HLA-DOB | RMRP | MYH13 | WWC1 | RNF8 |
| PSMC2 | CCR2 | HLA-DPA1 | RNF20 | MYH2 | XRCC4 | IL21R-AS1 |
| PSPH | CCR3 | HLA-DPB1 | RNF38 | MYH3 | ZFR | MRPS28 |
| PTCD1 | CCR5 | HLA-DPB2 | ROR2 | MYH4 | ABCA4 | CYP21A1P |
| PTPN12 | CCRL2 | HLA-DQA1 | RRAGA | MYH8 | ABCD3 | LGALS9B |
| PTPRN2 | CD200 | HLA-DQB1 | RUSC2 | MYL4 | ABL2 | RPL21 |
| PTPRZ1 | CD80 | HLA-DQB2 | RXRA | MYO15A | ACADM | HCN2 |
| RAC1 | CD86 | HLA-DRA | S1PR3 | MYO18A | ACBD6 | APLN |
| RAMP3 | CD96 | HLA-DRB1 | SDCCAG3 | MYO1C | ACKR1 | RPL21P28-CHR13 |
| RBM28 | CDC25A | HLA-DRB5 | SEC16A | MYO1D | ACP6 | NECAB2 |
| RBM48 | CELSR3 | HLA-E | SECISBP2 | MYOCD | ACTA1 | CTD-2258A20.5 |
| RELN | CEP19 | HLA-G | SET | NAGLU | ACTN2 | G3BP1 |
| RFC2 | CEP63 | HMGA1 | SETX | NAGS | ADAMTSL4 | TM4SF19-TCTEX1D2 |
| RHBDD2 | CHDH | HSF2 | SIGMAR1 | NCOR1 | ADAR | FAM175A |
| RHEB | CHMP2B | HSPA1L | SLC1A1 | NEK8 | ADC | LOC344967 |
| RINT1 | CHRD | HTR1B | SLC24A2 | NF1 | ADCK3 | HMGA2 |
| RNF216 | CHST13 | HUS1B | SLC27A4 | NFE2L1 | ADCY10 | TPSB2 |
| RNF32 | CHST2 | HYMAI | SLC28A3 | NGFR | ADIPOR1 | TM4SF19 |
| RP9 | CIDEC | ICK | SLC2A6 | NLGN2 | ADORA1 | KRT81 |
| RUNDC3B | CISH | ID4 | SLC31A1 | NLRP1 | ADORA3 | FAM72A |
| SAMD9 | CLCN2 | IFNGR1 | SLC34A3 | NME1 | AGBL4 | LOC338817 |
| SAMD9L | CLDN1 | IL17A | SMARCA2 | NME1-NME2 | AGL | HNRNPA1P10-CHR12 |
| SBDS | CLDN16 | IL17F | SMC5 | NOG | AGO1 | OTOA |
| SCRN1 | CLEC3B | IL20RA | SNAPC4 | NOL11 | AGRN | CDK11B |
| SEMA3A | CLRN1 | IMPG1 | SOHLH1 | NOS2 | AGT | SPATA31C1 |
| SEMA3C | CLSTN2 | IPCEF1 | SPAG8 | NPEPPS | AHCYL1 | IMPA2 |
| SEMA3D | CMC1 | IRF4 | SPATA6L | NR1D1 | AHDC1 | ZFP91 |
| SEMA3E | CMSS1 | ITPR3 | SPTAN1 | NT5C | AIM2 | HBG1 |
| SERPINE1 | CNBP | IYD | SPTLC1 | NXPH3 | AK2 | HGSNAT |
| SFRP4 | CNTN3 | JARID2 | ST6GALNAC4 | OMG | AKR7A2 | CALM2 |
| SHFM1 | CNTN4 | KCNK17 | ST6GALNAC6 | ORMDL3 | AKR7A3 | RHOA |
| SHH | CNTN6 | KCNK5 | STOM | P2RX1 | AKT3 | CDK11A |
| SLC13A1 | COL6A4P2 | KCNQ5 | STXBP1 | P2RX5 | ALDH4A1 | RPL21P28-CHR1 |
| SLC25A13 | COL6A5 | KHDC3L | SURF1 | P4HB | ALDH9A1 | INSL3 |
| SLC25A40 | COL7A1 | KIAA0319 | SYK | PAFAH1B1 | ALG14 | PTPLA |
| SLC26A3 | COLQ | KIAA1244 | TAF1L | PCGF2 | ALG6 | DUSP3 |
| SLC26A4 | COX17 | KIAA1919 | TAL2 | PDE6G | ALPL | CDKN1C |
| SLC26A5 | CP | KIF6 | TDRD7 | PDK2 | ALX3 | HRNR |
| SLC29A4 | CPOX | KLC4 | TEK | PECAM1 | AMPD1 | SDHD |
| SLC37A3 | CRBN | LAMA2 | TGFBR1 | PEMT | AMPD2 | GTF2IRD2 |
| SMARCD3 | CRELD1 | LAMA4 | TJP2 | PER1 | ANGPTL3 | RCOR3 |
| SMO | CRTAP | LATS1 | TLN1 | PEX12 | AP4B1 | NUDT7 |
| SND1 | CRYBG3 | LCA5 | TLR4 | PFAS | APH1A | NPPA-AS1 |
| SNORD56-CHR7 | CRYGS | LEMD2 | TMC1 | PFN1 | APOA1BP | LCE3B |
| SNX10 | CSTA | LHFPL5 | TMEM2 | PGAP3 | APOA2 | PCOLCE |
| SP8 | CTNNB1 | LIN28B | TMEM203 | PGS1 | ARF1 | SAA2 |
| SRI | CX3CR1 | LINC01016 | TMEM38B | PHB | ARHGAP29 | ENSA |
| SRPK2 | CYP8B1 | LMBRD1 | TMEM8C | PIGL | ARHGEF10L | PHKA2-AS1 |
| ST7 | DAG1 | LOC100129518 | TNC | PIGS | ARHGEF11 | TMLHE |
| ST7-AS1 | DALRD3 | LRFN2 | TNFSF15 | PIGW | ARID1A | ZEB2-AS1 |
| ST7-OT3 | DAZL | LTA | TNFSF8 | PIK3R5 | ARID4B | HBA2 |
| STAG3 | DGKG | LY6G6F | TOPORS | PITPNA | ARNT | CES1 |
| STEAP4 | DHX36 | MAK | TOR1A | PITPNM3 | ARV1 | NCF1 |
| STX1A | DIRC2 | MAP3K7 | TPM2 | PLD2 | ASPM | HLX |
| SUN1 | DLEC1 | MAPK13 | TRIM32 | PLEKHM1 | ASTN1 | RBBP7 |
| TAF6 | DLG1 | MCM9 | TRPM3 | PLSCR3 | ATF3 | LOC100506321 |
| TAS2R16 | DNAH1 | MDC1 | TRPM6 | PMP22 | ATF6 | VCX2 |
| TAS2R3 | DNAJC13 | MDN1 | TSC1 | PNMT | ATP13A2 | LYRM4 |
| TAS2R38 | DNAJC19 | MED20 | TTF1 | PNPO | ATP1A1 | UBE2W |
| TBX20 | DNASE1L3 | MED23 | TTLL11 | POLG2 | ATP1A2 | DMBT1 |
| TBXAS1 | | | | | | |
Frequently Asked Questions
What is the cost of Clinical Exome Next Generation Sequencing Test?

Cost of Clinical Exome Next Generation Sequencing Test is 20000 Rs

| | |
| --- | --- |
| Clinical Exome Next Generation Sequencing Test Price in India | ₹ 20000 |

What is Clinical Exome?

Clinical Exome Sequencing is a test for identifying disease-causing DNA variants within the 1% of the genome which codes for proteins (exons) or flanks the regions which code for proteins.

What do my results mean?

Once your sample has been tested, a team of experts review any DNA changes or variants found. The team will determine the significance of any variants, using all the available published scientific literature.

What happens to my genetic information?

Genomic sequencing generates a large amount of genetic information. Access to and storage of genetic information is strictly governed by national laboratory and health privacy guidelines.

What is the cost of Clinical Exome?

Clinical Exome will cost 22000 Rs

How much time will it take for reports?

Reports will take 4-5 weeks

How does Clinical Exome Sequencing work?

The cell is the basic building block of all living things. Humans have billions of cells that contain the genetic information for how the body develops, grows and functions. This genetic information is stored in DNA. Clinical Exome sequencing is a process that 'reads' the particular part of genes that are thought to be most important for health.

What is Next Generation Sequencing?

Next-generation sequencing (NGS) is a massively parallel sequencing technology that offers ultra-high throughput, scalability, and speed. The technology is used to determine the order of nucleotides in entire genomes or targeted regions of DNA or RNA.

How is Clinical Exome performed?

Clinical Exome is performed by an advanced technique known as Next Generation Sequencing
₹20,000.00
₹28,000.00
28% off
Book Now
Free Home Sample collection

Ranked India No1 DNA Test Lab

Most Trusted Lab by doctors

100% Accurate Test Results